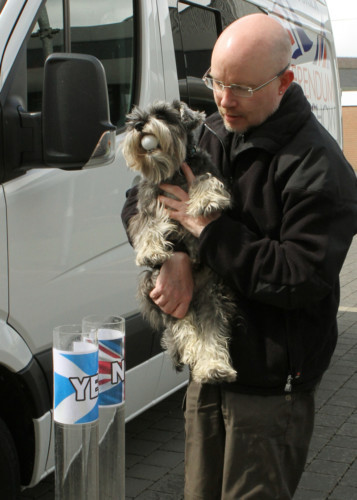 There was an emphatic Yes vote as the Courier Referendum Roadshow hit Lochgelly and Cardenden on Monday.
The Yes camp took 64% of our poll in Lochgelly.
Then in Cardenden the vote showed 71% saying Yes and 29% calling for a No.
In the Yes camp was Aimee Aird, 20, from Lochgelly, who said: "I think Scotland will be better off from what I have heard."
Joe Timmons is also going to vote Yes so Scotland "is in control of its own destiny", he said.
Mima Simpson has changed from No to Yes.
"I have been to two or three debates, including one with Gordon Brown, and with the likes of pensions no questions have really been answered I do not think they know the answers themselves," she said.
Hoping the No campaigners win a lot of support was Dolan, a miniature schnauzer.
They say a man's best friend is his dog and definitely Better Together are Dolan and James Bruce.
Mr Bruce said: "I do not think it's a good idea for Scotland to go it alone."
Also in the No camp was Neil Chalmers, from Kinross, who said: "I have not been convinced, I cannot see Scotland being able to go it alone."
On Tuesday, the roadshow moves on to Dunblane and Doune. Follow all the roadshow action at www.thecourier.co.uk/indy-roadshow.