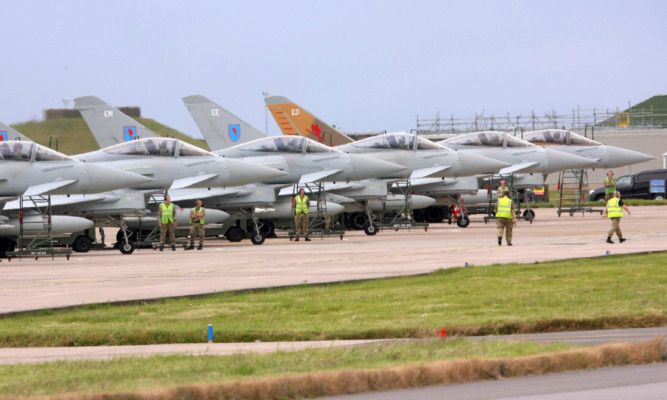 Eyebrows have been raised in Fife after it emerged that a total of £17 million was spent last year upgrading RAF Lossiemouth to get the base ready to become the frontline of the UK's air defences.
Coalition ministers have revealed that the money was invested at the Moray airfield before the arrival of 6 Squadron from RAF Leuchars in Fife last month.
A further £70m has been set aside by the Ministry of Defence (MoD) for the overall revamp of the base, which is due to host three squadrons of Typhoon jets.
However, the level of expenditure has raised concerns in Fife, where Leuchars is being turned into an army barracks.
North East Fife MP Sir Menzies Campbell recently tabled a series of questions in Westminster about the costs.
He said the MoD justified sending the Fife-based Typhoon force north to Lossiemouth on the basis it would save the taxpayer money.
He added: "The Ministry of Defence has argued the transfer of the Typhoons from Leuchars to Lossiemouth is in the interests of the defence budget as a whole.
"But the expense of the transfer to Lossiemouth and the provision of new facilities there undermines that case."
Work carried out at Lossiemouth includes the refurbishment of hangars one and three, and the accommodation blocks, as well as new ground-support IT and communication systems for the Typhoons.
It was previously reported that a contract was being offered for a £7m "hush house" to test the advanced fighter jets at the base without disturbing neighbouring residents.
Another contract for up to £5m has also been offered for the construction of a new Typhoon propulsion support facility at Lossiemouth, where Rolls-Royce staff and contractors will maintain the aircraft's EJ200 engines.
A second Typhoon unit, 1(F) Squadron, is due to leave Leuchars for Lossiemouth by the autumn, and the Moray base is taking over the Quick Reaction Alert role, intercepting threats to UK airspace.
In response to questions from Sir Menzies on the cost, Defence Minister Mark Francois said: "By the end of financial year 2013-14, approximately £17m had been spent on Typhoon-related works at Lossiemouth.
"The estimated capital costs for facilitating Typhoon Force-related operations, including the Northern Quick Reaction Alert facility, at RAF Lossiemouth is anticipated to be some £87m," he said.
Defending the closure of Leuchars as an RAF base, Mr Francois added: "The basing review, which was announced in July 2011, assessed what was best for defence as a whole.
"The decisions made regarding RAF Leuchars and RAF Lossiemouth were also necessary to establish a coherent plan for basing the army following its return from Germany and the opportunity to realise receipts by disposing of high value estate, while ensuring the build-up of the Typhoon force."
An MoD spokeswoman said: "The transferral of Typhoon operations from RAF Leuchars to RAF Lossiemouth is on schedule for completion later this year.
"Work completed at RAF Lossiemouth to date has involved the refurbishment and extension of a hangar to accommodate 6 Squadron, which arrived in June this year, as well as a number of supporting projects to provide the necessary infrastructure to support Typhoon operations."