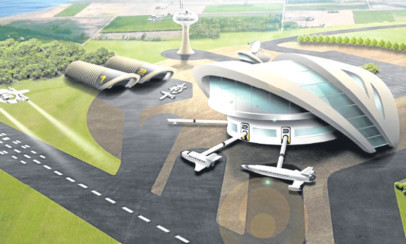 A self-styled "St Andrews spaceport" could provide the launch pad for a staggering £4 billion boost for the Scottish economy by 2030, it has been claimed.
Fife Council outlined its bid to see the former RAF base at Leuchars play host to the out-of-this-world facility at a national conference in London, with the Department of Transport expected to confirm the preferred UK location for Europe's first commercial spaceport in a matter of months.
Ministers have already ruled out Leuchars becoming a permanent home for the venture, but Fife is still being seriously considered for a temporary, transitional facility.
Three other Scottish sites Campbeltown, Prestwick and Stornoway remain on the Government's six-strong shortlist, along with Newquay in Cornwall and Llanbedr Airport in Wales, and all six made submissions to the Royal Aeronautical Society's Spaceport UK conference.
With that in mind, Fife Council's presentation focused on promoting Leuchars under the world-renowned banner of St Andrews as the best placed out of all the Scottish hopefuls, and highlighted how Fife could benefit the country's rapidly-growing space industry.
Figures revealed that the Scottish space economy generated £131.4 million turnover last year, equivalent to 1.1% of the £12.2bn UK total, but estimates are that could rise to 10% of the projected £40 billion UK total by 2030 if a spaceport comes to Scotland.
Iain Shirlaw, economic adviser, said Leuchars ticks all the boxes in that there is an existing runway on the military aerodrome, meets weather criteria, is in a coastal location away from densely populated areas, and is accessible for staff and visitors from across Scotland.
"We already have a long runway at Leuchars which can be used in the short term and gives us a foot on the ground, and there are currently 10 spaceports in the USA, so it's not out of the question for Leuchars to host a temporary facility here," he added.
Mr Shirlaw added that the emphasis on commercial space flights, as mooted by Sir Richard Branson's Virgin Galactic in the last decade, has shifted towards horizontal satellite launches.
"A London Economics report for Scottish Enterprise said Scotland is leading the line globally in the field of nanosatellites, so this is well worth going for," he added.
The Leuchars bid highlighted spaceports in the US which are run by specialist operators who develop multiple revenue streams, pointing out that a similar model could be used in the UK.
That means cash can be generated from launch charges, business incubator units, a meeting and conference centre, a space museum and education centre and merchandising.
Also highlighted was the fact that Leuchars is close to St Andrews and Dundee universities, while the fact that key industry players BAE, Raytheon and Rolls Royce three of 744 companies said to be involved in the aerospace, defence and marine sectors in Scotland are in Fife was similarly flagged up.