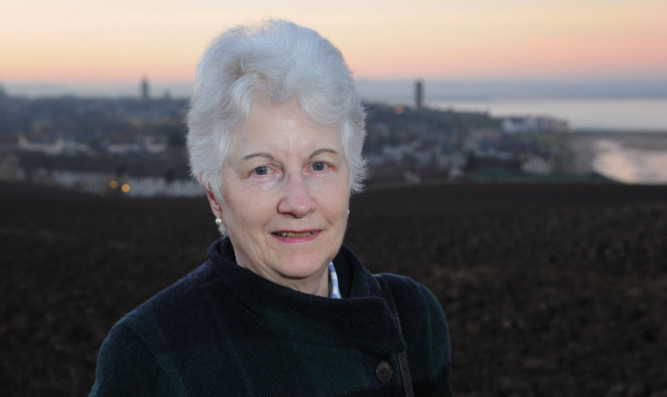 A veteran campaigner who has been a thorn in the side of planning officials through her battles to save St Andrews from a "tsunami" of development has again spoken out about the "difficulties" she believes are faced getting information from Fife Council planning service.
Tenacious campaigner Penny Uprichard, who is a member of St Andrews Community Council's planning committee, has again hit out at the "totalitarian" planning system which she said excludes the public from meaningful participation.
Miss Uprichard, who lost a high profile planning case at the UK Supreme Court in 2013, and who backed recent unsuccessful attempts to block plans for a new Madras College at Pipeland, has called for an overhaul of the planning system.
Speaking at St Andrews Community Council as an individual, she said the planning committee of St Andrews Community Council had experienced "many problems" .
She said it often found itself "up against a brick wall" with Fife Council's planning service.
She said community councils and ordinary citizens "seemed to be at the bottom of the heap" when it came to having their views heard.
She said: "It's not a democratic system. The system is more and more totalitarian. The system is unfair. It's not transparent. It's not honest.
"Ordinary people do not know what the Tayplan is. Nobody knows what Fifeplan is.
"To read the Fifeplan would take a week. People don't feel there's any point getting involved when they should be making their voices heard whenever they can."
Ms Uprichard, who previously accused Fife Council of putting "obstacles" in the way of scrutiny, made her comments just weeks after the heads of Scotland's largest environmental charities demanded an overhaul of the country's planning regime amid concern developers are riding roughshod over the concerns of rural communities and destroying the country's natural heritage.
Sir Kenneth Calman, chairman of the National Trust for Scotland (NTS), Stuart Housden, chief executive of RSPB Scotland, and Stuart Brooks, chief executive of the John Muir Trust, were among nine champions of the environment who signed an open letter to ministers.
They warned that public trust in the government is at rock bottom, with "angst and suspicion stemming from the sacrifice of areas of wild land, natural heritage, historic landscapes and green belt to commercial priorities".
The group has called for the creation of a "truly independent" planning authority to consider controversial projects such as windfarms to prevent "industrialisation of the landscape".
Bill Lindsay, service manager, Development Plan, Fife Council, said: "Local Authorities across Scotland work within the national statutory legislation in place, but in Fife Council every effort is made to improve on these standards to make the process as easy and open as possible.
"We have worked to make the Fifeplan Local Development Plan easier to use and, outwith the individually listed proposals, the Fife-wide plan is more concise.
"A survey for those who commented on the Local Development Plan is open until April 13 and will be used to help identify further improvements.
"We use a variety of communication channels including the local media to help raise awareness of local plans and how people can get involved.
"Our Fife Local Development Plan Exchange is used to exchange information and ideas and later this month we will meet member communities groups face to face."