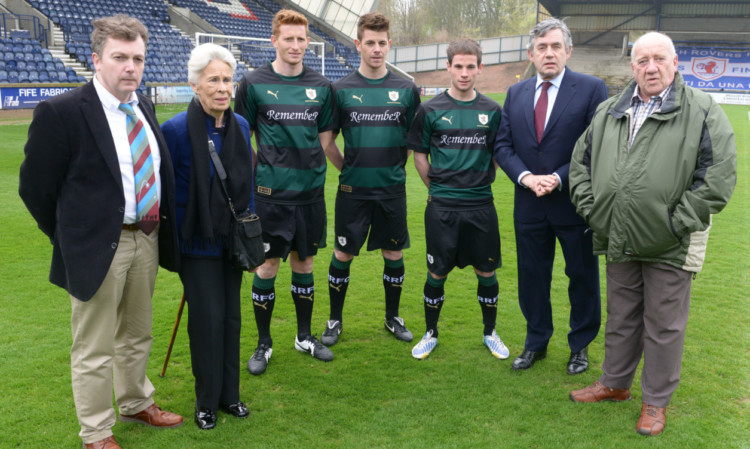 Team-mates on the pitch, they were comrades in battle, who fought and died together.
And now Raith Rovers have unveiled a commemorative strip to pay tribute to the Kirkcaldy club's players who paid the ultimate sacrifice for their country in the First World War.
In 1914 Sir George McCrae, a former MP in Edinburgh, raised a battalion of sportsmen. The battalion, the 16th Royal Scots, took part in action including the Battle of the Somme and the push for Passchendaele.
Seven Raith players James H Logan, George McLay, Willie Porter, Willie Lavery, Jimmy Todd, Jimmy Scott and Jock Rattray joined up to fight in McCrae's Battalion.
Sadly three Todd, Scott and McLay were never to return. To honour the sacrifice of the McCrae Battalion, Raith unveiled a commemorative strip before their home match against Cowdenbeath at the weekend.
It features the green and black of the Hunting Stewart tartan worn by the Royal Scots Regiment and in a major departure, bears no sponsorship logo.
In its place is one word: "Remember".
It follows a similar initiative from Hearts, whose players were also part of McCrae's Battalion. Helping launch the away strip was Kirkcaldy and Cowdenbeath MP Gordon Brown, who paid tribute to the young men.
"It is to remember those who sacrificed their lives and it is really important for the town because we should never forget the service people gave.
"It makes me very proud of Raith Rovers that we lead the way in making sure these men are remembered."
Watching with pride were two descendants of Todd and Scott.
Janice Todd was unaware of her uncle until watching a documentary. She then contacted Jack Alexander, director of McCrae's Battalion Trust, and has since been to his grave in Erquinghem, France.
Alvin Scott, 69, came to honour his grandfather.
"It means more than I can tell," he said.