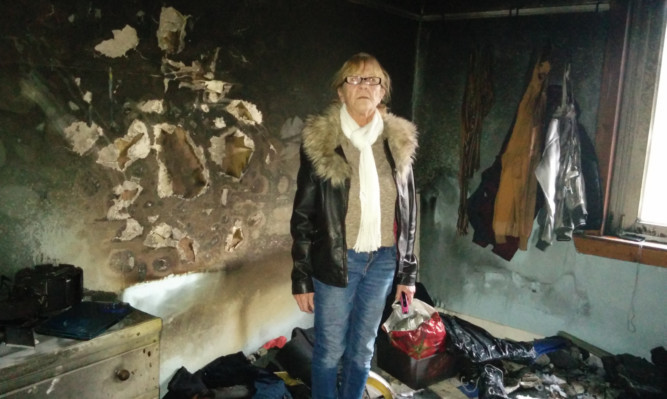 A Fife mother and son are lucky to be alive after an overheating laptop set fire to their home.
Marion Ferguson, 63, is thankful son Roy Wilson, 36, fancied a late-night snack and heard the "crackling" of a fire in his bedroom.
Otherwise, she fears both could have perished in the inferno that engulfed his bedroom and quickly spread, causing damage to the rest of the upper floor flat in a block of four in Glencraig's Garry Park.
Ms Ferguson said: "Roy's laptop wasn't working and he was given a replacement until it was fixed.
"It was on the chest of drawers and there was a small can of lighter fuel nearby."
https://youtube.com/watch?v=5d68WdwgN8s%3Frel%3D0
She was in her bedroom while Roy, a student at Abertay University, was in his bedroom next door.
"He thought he'd have something to eat and made himself a sandwich, and that's when he heard the crackling of a fire."
She said when he investigated his room was ablaze and the door had been blown off.
"If he hadn't got up I would have been organising a funeral today," she said.
The Scottish Fire and Rescue Service is warning the public about the dangers after firefighters from Lochgelly and Dunfermline tackled the fire shortly after 11.30pm on Tuesday.