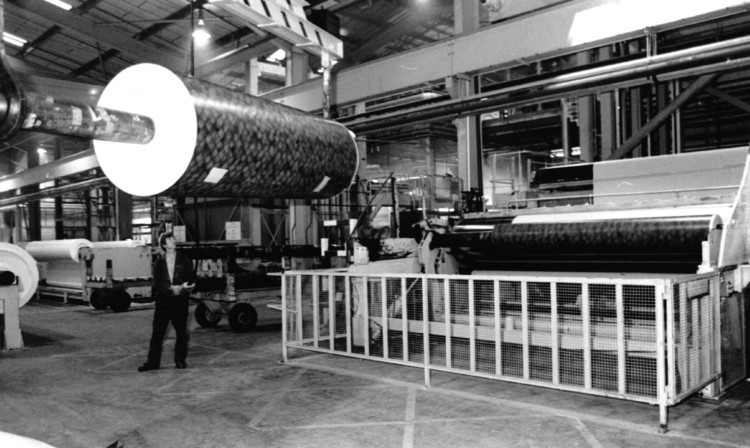 Scotland's oldest surviving linoleum works is disappearing into the past, as bulldozers tear down Kirkcaldy's former Nairn building.
Built in 1882, the factory was once part of the town's thriving lino industry and was in operation until 1984.
After lying derelict for three decades, however, the A-listed relic had fallen into a dangerous state of disrepair and Scottish Enterprise, which bought the building in 2001 with hopes of transforming it into a business centre, was unable to market it.
Mary Hall, who is the chairwoman of Kirkcaldy Civic Society, said it was a sad loss for the town.
"It's really and truly sad because it's a building with so much history. But it's in such a state now, who would take it?" she told The Courier.Photo gallery:Nairn linoleum factory photos from the archives"Because of the state it's in, it would cost more that it's really worth to repair. They've explored every option over the years. At one point it was even thought they could get the swimming pool in there, but I believe there was some contamination in the area.
"It's sad but inevitable. They've let it get into such a state there's really nothing that can be done with it."
Demolition work started at the weekend and it is estimated it will take eight weeks to complete.
Christine May, who chairs Fife Historic Buildings Trust, said: "We're disappointed that no viable use could be found for it because, obviously, our ethos is to preserve historic buildings whenever we can bring them back into use.Suggested link: Nairn factory at the Scottish Screen Archive"We regret its demolition but the practical reality is nobody could come up with a viable use for it and it was an eyesore."
With the building soon to be gone, one bit of good news for Kirkcaldy is that linoleum manufacturing lives on in the town, thanks to Forbo Flooring, which is based in Den Road.
Mrs May added: "Forbo is a major employer, not just in the town of Kirkcaldy but in the whole of the Fife area, so the legacy carries on and the history continues.
"The building may be going but the jobs are much more important."