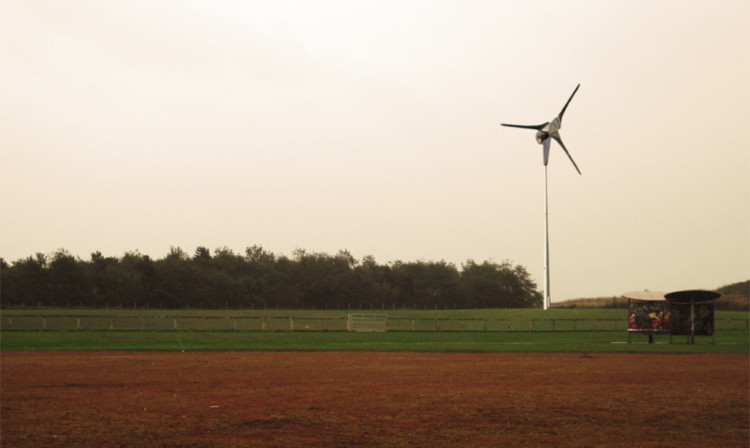 Residents of a Fife town which overlooks a chemical plant and wind farm have blasted plans for another turbine near their public park.
Lochgelly campaign group Loch of Shining Waters has accused Fife Council of adding to the blight already suffered from the Mossmoran plant and Little Raith wind farm.
It has conducted an online survey, with 92% of respondents against the proposal for an 87ft turbine east of the Melville Street park and produced a photomontage showing how the structure could look, "dwarfing" nearby trees and hedges.
The location is one of 15 being considered by the local authority for money-spinning turbines.
Loch of Shining Waters chairman Terry Mclean said: "It is a grave concern that the council is seeking to offset its own energy costs by cashing in on the huge subsidies for wind turbines because these subsidies are a major reason why our bills are so high.
"It is even worse that the council is proposing to add to the blight already affecting us.
"We are suffering from the negative impacts of Mossmorran and Little Raith, more industrial turbines have been consented around Lochgelly and, although the area is beyond saturation, we continue to be threatened by private wind
speculators.
"Now, our own council is proposing to stick these monstrosities in our town and in our public park no less."
The council, which needs to save £100 million over the next four years, pointed out that the turbine would be less than a quarter of the height of those at Little Raith.
Leader Councillor Alex Rowley said: "The council needs to explore this opportunity because the plans have the potential to generate millions of pounds additional income.
"The money made would be reinvested in our communities to benefit local people. These proposals are for individual turbines on land which has a council building nearby. No final decision has been made yet on where they will go."
Planning applications have yet to be submitted for the turbines.
Mr Rowley said: "At that stage, people will get the chance to have their say on the plans.
"The council wants to make sure these proposed turbines are put in the right place, so this work follows on from detailed feasibility studies carried out by professional advisers during the last few months."