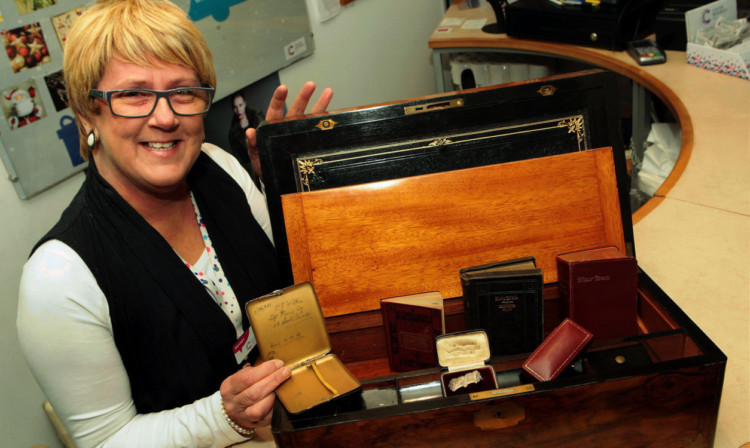 Can you help piece together the story behind a mysterious donation to a Fife charity shop?
Volunteers at Cancer Research UK, in St Andrews, were intrigued when an old wooden chest was handed in containing items from the First World War and a special edition of The Courier celebrating the end of the conflict.
The rare, commemorative edition from June 30 1919 features a drawing of an angel and the words "Peace Hath Her Victories No Less Renowned Than War".
It was published just after the signing of the Treaty of Versailles and while a little frayed around the edges, it remains intact.
Also inside the ornate case, which opens out into a writing desk, are objects including an inscribed Mizpah brooch of the type commonly exchanged by sweethearts when young men went off to war and a cigarette case engraved with "P F Wilkie, Left Flank Coy, 2nd Scots Guards, France, 6/10/16".
There are also Bibles containing pressed four-leaved clovers, with the names and dates William A Wilkie, 1900 and Lizzie H Wilkie, January 6 1914.
A plaque has been added to the case later stating it was presented to Mr P Wilkie by Lochgelly Wednesday CC in 2007.
The donation was made by a local businessman but the manager of the South Street shop, Liz Swankie, has been unable to contact him to find out what he knows about his generous gift.
She told The Courier: "I have never seen anything like this. It is a lovely box with brass all round the edges and a lock.
"Customers have told us the case would have belonged to an officer and someone would have carried it for him."
Liz, who intends to sell the items at auction for the charity, hopes someone will be able explain their origins.
She said: "It's intriguing it would be great to find out the story behind it and find out who the Wilkies are."
DC Thomson & Co archives manager Liza Giffen said the fragility of newspapers from almost a century ago and the requirement for paper during the Second World War meant other than those held by libraries and archives, copies of the special edition of The Courier were few and far between.
She said: "It's very rare for one of these to turn up.
"The fact someone has kept it and obviously looked after it means it meant something very special to someone."
More than 100 DC Thomson workers fought in the war and she said: "When we produced this front cover it was our way of welcoming back our own staff who had survived the war.
"It's so beautiful and it was a symbol of hope.
"The First World War was meant to be the war that ended all wars and the image shows how we thought we were coming into a better world."