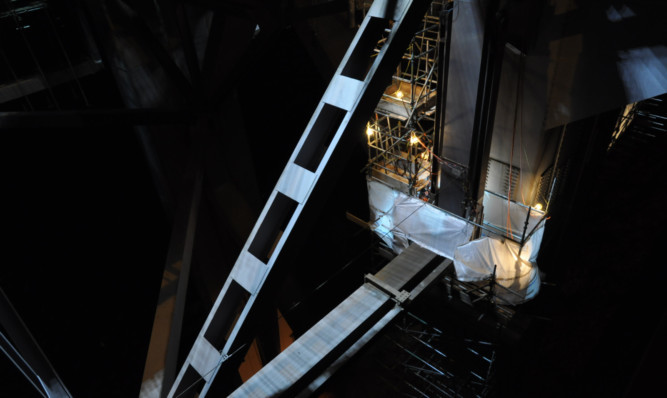 There is "reasonable confidence" the Forth Road Bridge will reopen as planned on January 4, Fife Council's chief executive has said.
Steve Grimmond was speaking as he provided an update to the full council meeting in Glenrothes about the impact of the crossing's closure and the effect it has had on the region since a defect was discovered this month.
As well as confirming efforts to reopen the bridge in the New Year are on schedule, Mr Grimmond said the council has asked bus and train and operators to review their festive arrangements in light of the continued closure.
At the moment, no services are expected to run on Christmas Day or New Year's Day, while reduced services on certain routes are also likely on other key festive dates. But Mr Grimmond said: "We are urging Transport Scotland and the Scottish Government to consider further their festive arrangements for public transport in terms of bus times and train availability, to mitigate some of the challenges individuals and business are facing.
"That is a live and active engagement which we're continuing to push for a resolution to. The information from the Scottish Government appears to provide reasonable confidence that the bridge should reopen on January 4. Notwithstanding that, we will be working over the festive period and if there is any update or any new information then we will make people aware of that."
Mr Grimmond made a point of thanking all the council staff many of whom worked long hours when news of the bridge problems first broke and the employees who had gone about their daily business despite the adversity.
Dunfermline Central Councillor Neale Hanvey also rose to acknowledge the public's role. "I take my hat off to members of the public who have made changes to their daily routine some of them getting up at silly o'clock to get to work," he said.
"Everyone who has been touched by this has been incredibly tolerant."
Dunfermline South Councillor Billy Pollock highlighted the financial effect the closure has had on many people, citing one employee who has had to cut his hours by 10 a week to compensate.
He added: "That's bad enough at any time of year but more so at Christmas, where people are trying to provide for their families."
Councillor William Campbell said things had settled down in his Dunfermline North ward since some "considerable annoyance" early on, but he warned the public's patience might be tested should there be any slippage in the timetable.
"I'm conscious that the generosity and tolerance might dissolve if the situation is not resolved by January 4," he said.