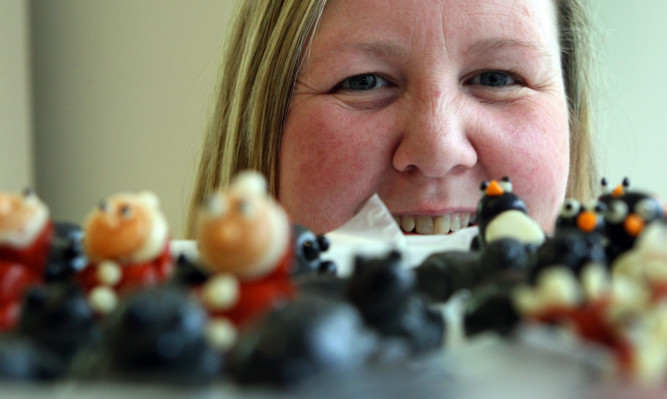 Golf, fine sandy beaches and the university are just some of the attractions with which St Andrews is synonymous.
But another St Andrews institution regularly drawing long queues is a landmark ice cream shop which is hoping to freeze out its competition this festive season with a range of special Christmas ice cream cakes.
Jannettas Gelateria, which has been operating from its original site in South Street since 1908, is getting into the festive spirit with an array of exciting designs and flavours ranging from Christmas pudding to red currant cheesecake flavour.
And owner Owen Hazel, 51, who runs Jannettas with his wife Nicola, 45, the great grand-daughter of founder Bennett Jannetta – is hoping that it will again inspire their loyal customers.
He said: "Jannettas have been doing Christmas ice cream cakes since before I came into the business 21 years ago. It's become a tradition in the town for generations and generations of customers. People who used to get them as children buy them for their own children and now even for their grandchildren.
"I can't take the praise as it was my father-in-law and those before him who started it. What we've done though is expand the range. We do Santa Claus cakes, Snowman, Yule Log. Now we've got igloos, snowmen, chimneys."
A team of three led by production supervisor Michelle Stewart create the cakes.
Owen said that from a practical point of view, ice cream cakes are much more difficult to handle than standard sponge cakes, with less time to work on them. The great advantage, however, is that cakes can be designed using various flavours.
"If you take the snowman, for example, you can have a plain vanilla cake and put the flavours inside,"Owen added. "Most of them are aimed at children, and it's great to be selling ice cream in deepest darkest winter when demand can normally be quite low!"
When Bennett Jannetta arrived from Italy more than 100 years ago, there was only vanilla on offer. Now, the fourth generation of the family is providing 54 flavours of award winning traditional ice cream, including frozen yogurts and sorbets.
It's been a momentous year for Jannettas, which underwent a major refurbishment of its century-old St Andrews home before re-opening in February.
It was officially named Scotland's favourite ice-cream shop, scooping the 2014 Golden Cone award that summer.
The business scooped further success at last year's Courier Business Awards when it was named as the retail business of the year, and was again shortlisted for this year's Courier awards. A couple of weeks ago the business was a finalist at the Italian Awards.
Also running Burns sweet shop in Market Street, St Andrews, Jannettas also has an outlet in Perth and an event catering arm, and provides regular employment for around 80 full and part-time staff.
Owen reflected: "It's been quite a year and we're very pleased."
Among the St Andrews shop changes were a new backdrop based on a collage of the Jannetta family's photographic archive, illustrating the history behind the business and its evolution for future generations. Nicola's great-great grandfather originally settled in Dysart having relocated from the Belmonte Castello area of Italy before moving to St Andrews.
Owen said of the family history: "It's hugely important to us. The family history is very interesting and very much part of the town. When we won the awards last year, we had people coming in saying what an achievement it was not just for us but for the town. I think Jannettas is in the hearts of the town.
"People come to St Andrews to visit the attractions and people come to buy ice cream at Jannettas. It's what they do. It's what my family did when we used to visit the town when I was a wee boy."
Owen will be taking part in a question and answer session at the Byre Theatre on Sunday November 29.