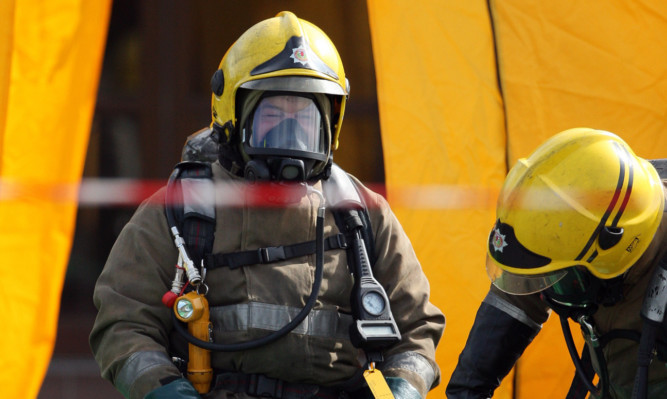 St Andrews resembled a "scene from Crime Scene Investigation" as emergency services descended on the town following a chemical leak at a swimming pool.
A full emergency response was mounted at the town's East Sands Leisure Centre at lunchtime on Tuesday, forcing staff and swimmers from the building.
Locals reported witnessing men in "giant green bio suits" enter the centre before men, women and children in bathing suits were evacuated and loaded into ambulances.
NHS Tayside confirmed that 19 people 14 adults and five children aged between two and 12 were taken to Dundee's Ninewells Hospital suffering from respiratory problems.
Fire chiefs confirmed the source of the leak was an almost-full 1,000-litre storage tank containing the pool cleaning agent, sodium hypochlorite.
The chemical spilled from the tank on to a grassy area outside the swimming pool. Specialist contractors have been tasked with the clean-up.
One couple, Gary and Gemma Kroegler from Anstruther, were swimming with their two-year-old son, Archie, when they heard an explosion and inhaled an unidentified chemical that left them unable to breathe.
https://youtube.com/watch?v=J1fnXt4_qcU%3Frel%3D0
Mrs Kroegler said: "It was like the air was being sucked out of you. It was a chemical, burning sensation in the nose, throat and eyes.
"I saw my wee boy's face and it was panic stricken because he couldn't breathe. My legs couldn't carry me out of the building fast enough."
Mrs Kroegler said there appeared to be an explosion from pumping equipment at the side of the pool. She said the chemical smell got worse as they went through the changing room on their way out of the building.
"We literally had to run. We still had our swimming costumes on. My wee boy is two and he was frozen to the bone.
"We didn't get taken to the hospital for a long time. We didn't know what had happened to us. It was terrifying.
"I don't know the long-term effects of what we breathed in. When you've got a baby, you worry if it was carcinogenic."
The group, many still in swimming costumes, was ferried in ambulances to hospital. One toddler was carried out swaddled in a towel. After treatment, they were returned to St Andrews but refused access to the centre. There were angry scenes as some demanded the return of their possessions.
Mrs Kroegler said: "We had nothing. We had to make it back to mum's."