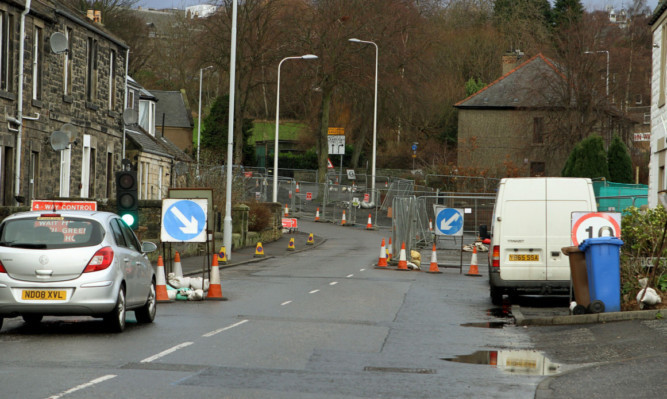 Fife Council was "badly let down" by consultants during Dunfermline's flood prevention debacle, according to its leader.
The ill-fated project has been awash with delays, spiralling costs and legal disputes and has caused years of misery for scores of locals.
In 2003 it was originally heralded as a two-year £3.75 million project which would alleviate the flooding problems in the south of Dunfermline.
Instead it trundled on and on, as costs soared to an eye watering £34.5m by the time it was over.
The fiasco resulted in Fife Council's internal audit team conducting a review of the heavily criticised project since design work started in 2004.
With the council involved in legal action against Atkins, the design and site supervision consultants on the project, chief executive Steve Grimmond said the review was needed so there could be a thorough examination of the way it handled the project.
"Fifers need to have confidence the council is using public funds competently and getting best value for money," he said.
He added lessons will be learned as the review highlighted ways the council can improve how it deals with major civil engineering schemes in the future.
Council leader David Ross welcomed the review "after years of frustration for local residents who have unfortunately borne the brunt" of the difficulties.
He said the council had asked for the review to understand, and give reassurances, that it had acted appropriately.
"What is clear is that we have been badly let down by companies the council employed to carry out various aspects of this work including the design of the scheme."
The audit has claimed poor work by the design, construction supervision and management consultants led to difficulties with the construction contract awarded to Byzak substantial changes to the contract drawings were still being made two years into the building phase.
Terminating the contract with Atkins was looked at but having taken legal advice the council decided it would be too costly and delay progress too much.
But last year a new contractor was appointed to complete the much maligned scheme under the supervision of the council's in-house design team.
The council is pursuing claims in a bid to recover some of the additional costs.
A spokesman for Atkins said: "This matter is ongoing and it would be inappropriate at this stage to discuss in any further detail."
Amey, on behalf of Byzak, said this was an issue between Atkins and Fife Council and they had nothing further to add at this time.'Folk there have not had a garden for 10 to 15 years'The project scheme "has been a sorrowful mess", according to one local councillor.
Lib Dem member Joe Rosiejak has called for proper compensation for the locals who have put up with years of problems as work has trundled on.
"There has to be proper compensation given to each of the householders who have suffered years and years of misery," he said.
"People have not been able to enjoy their gardens for years, they have not been able to sit out in the summer months.
"A couple of folk there have not had a garden for 10 to 15 years.
"There has to be proper compensation for them because it is simply not nice what they have had to go through."
The councillor said everyone agreed there needed to be flood prevention schemes but questions have to be asked over the much maligned project.
"Why did it take so long? he said. "I wonder what has been happening behind the scenes, I do not think we know."
Heralded as a safeguard to protect hundreds of homes and businesses, the scheme has been beset by problems.
Last year a whistleblower feared someone would be badly injured or killed by the delays to the project he dubbed Fife's equivalent of Edinburgh's trams.
Mr Rosiejak agreed with the council leader that lessons would have to be learned but took the view "it should never had got to this situation in the first place".
"They should have dotted the Is and crossed the Ts before they started any work. Lessons have to be learned.
"The whole thing was a shambles and should never have been able to get to that stage."