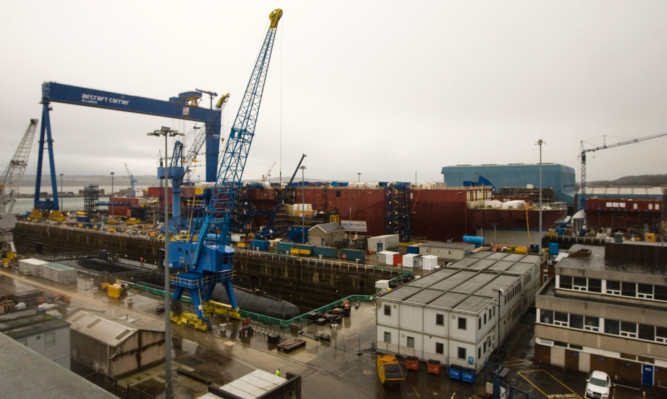 Engineering firm Babcock is demanding the Scottish Government pays its legal costs for a public inquiry into environmental consequences of building a new terminal at Rosyth.
The company, which last week announced its pre-tax profits for the last year had increased by 30% to £224.6 million, could receive as much as £500,000 if it wins its claim against Scottish Natural Heritage (SNH), the wholly government-funded wildlife protection agency.
Babcock claims their plans to create a new terminal at the docks in Rosyth would create jobs and boost Scotland's economy.
However, both SNH and the Royal Society for the Protection of Birds claimed the dredging required would damage mudflats which are a key habitat of seabirds such as curlews and oystercatchers.
A seven-week public inquiry into the plan was held last year and the Scottish Government is due to give its verdict soon.
But Babcock, one of the world's largest engineering firms, is demanding the government body helps pay their legal expenses for dragging out the inquiry.
The company claims SNH had a "flawed understanding of the law" and that by failing to follow correct public inquiry procedures, had drawn out the legal process and cost Babcock more money.
This has been strongly rejected by SNH who are "robustly contesting" the claim, saying they would have failed in their statutory duty had they not argued against the plans.
A spokesman for Babcock, which employs more than 1,700 people in Fife, said their claim was to highlight the disruption and costs to the company caused by the inquiry.
Although Babcock maintains its blueprint could create hundreds of jobs, several residents' groups opposed the plans because of concerns over noise and its potential environmental impact.