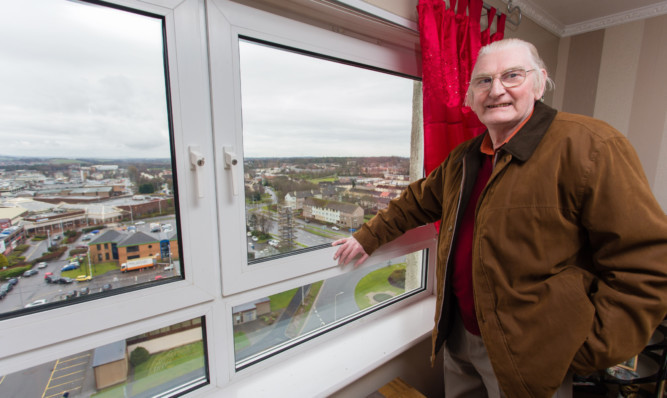 One of Glenrothes' most iconic buildings is set for a facelift as part of a green energy project.
Funding totalling more than £450,000 is to be awarded to improve the energy efficiency of Raeburn Heights.
The project will see new cladding installed on the outskirts of the 16-storey building, helping residents to heat their homes while transforming the exterior appearance of the tower.
It follows the success of a similar project to renovate the three Kirkcaldy tower blocks at Ravenscraig two years ago.
"The building is difficult to heat," said local councillor Bill Brown.
"A lot of the flats have electric heating and that makes the flats expensive to keep warm. There is no cavity wall insulation and so that meant that outside cladding was the only real option to pursue."
Built in 1968, Raeburn Heights was the only tower block constructed in Glenrothes, though several more were planned.
Containing 61 flats, the building is the tallest in Glenrothes, with the overwhelming majority of homes in private ownership.
Any renovation work is likely to take place in the 2017-18 financial year, and while approval from the Scottish Government is still required, this is expected to be a formality.
The bill for the renovation work will total £457,500, with £315,000 of this coming from the Energy Saving Trust's HEEPS initiative.
Fife Council will contribute a further £31,000, while each resident will be asked to make a one-off payment in the region of £750 towards the project, receiving an interest free loan if necessary to cover the cost.
However, if a significant number of residents do not wish to participate then it is possible that the renovation plans could be dropped.
Resident backs cladding to make difference
Danny Murphy, 73, moved to Raeburn Heights three years ago following the death of his wife.
Having swapped life in suburbia for what he calls Glenrothes' "village in the sky", he said he has never regretted trading his old home in the South Parks area of the town for life on the 13th floor.
"On a clear night you can see down to England," he said.
"The views are spectacular and the flats are deceptively big as well.
"Almost all of the flats are privately owned and we have a caretaker who is always cleaning the place."
Asked what difference the new cladding will make, he said: "This building could be twice as warm.
"I've been campaigning for this cladding for a while and there's been a lot of help from a lot of good people to achieve this."