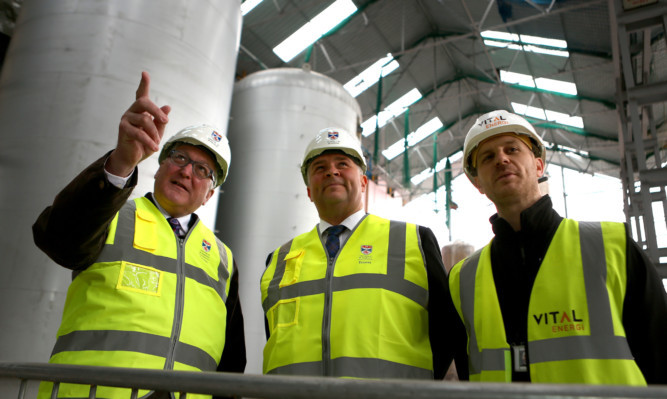 Business, Energy and Tourism Minister Fergus Ewing has hailed the progress made on building St Andrews University's new Guardbridge Energy Centre.
The plant is key to the establishment becoming completely carbon neutral and is part of a wider plan to produce 100% of its own energy needs.
Situated in the grounds of the old Guardbridge paper mill, near St Andrews, it will use wood chippings to produce energy to heat laboratories and student residences.
It is due to start production in January.
Around £10 million was provided by the Scottish Funding Council with the rest from an £11m loan from the Scottish Partnership for Regeneration and £4m provided by the university.
The minister visited on Wednesday and said he was "extremely impressed" with progress.
He said: "This is part of a larger vision St Andrews University has of being the first carbon neutral university.
"The heating network would supply the heating needs for most of the university buildings and all of the university buildings on the Guardbridge end."
Mr Ewing noted that the university was leading the way in becoming carbon neutral for its energy and also said that the project was part of SNP plans to "take full advantage" of Scotland's natural resources for the production of energy.
"St Andrews University set out with a strategic plan some years ago which is now about to come to fruition," he said.
"This is good news for St Andrews, it is good news for Scotland and is part of the agenda that the SNP has had in government and will continue to have, which is to take full advantage of our natural resources.
"To use our own natural resources is a sensible thing and to do so in order to power our own, renewable heating is especially important.
"There is also a study taking place at the moment which the Scottish Government is offering modest funding of £44,000 for a study into geothermal energy.
"This is a multi-faceted renewable energy project in Scotland and one that is very important and I am delighted that St Andrews is taking the lead."
The acting chief executive of St Andrews University, Derek Watson, said that by producing their own energy the university could safeguard jobs.
He said: "What producing our own energy will do is protect the university's budget, meaning we can spend money on our staff, rather than paying for energy.
"The university believes that sustainable energy development is the way to go we believe it is the right thing to do."