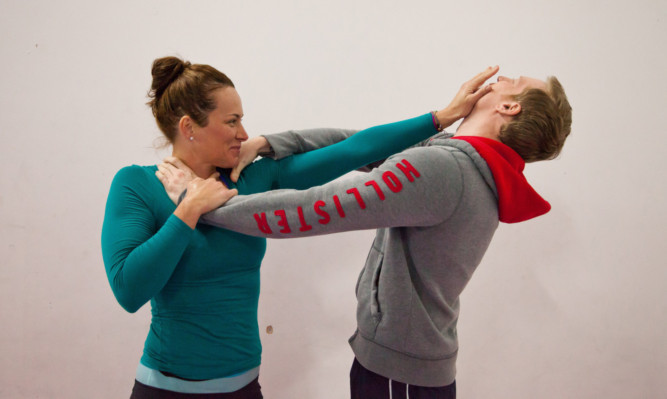 A personal trainer from west Fife is launching a series of women-only self defence seminars.
The courses are based on techniques developed by the Israeli defence force. Marcus Houston, from Dunfermline, will start the six weekly seminars this week.
The two-hour sessions will focus on awareness, how to prevent attacks from happening and defence against attackers in a variety of real life situations.
Currently there is no real offering for women looking to pick up and develop self-defence skills, and Marcus is hoping the launch of his courses will rectify this and encourage more women to come forward.
He said: "The number of attacks on women is pretty shocking, which is why we have set up these classes."
He continued: "Lots of centres offer defensive training, but these are more often than not geared towards men, which can be pretty off-putting to women who feel they may not be able to train with other men or would prefer something more suited to their skills sets and needs."
Training will cover basic defence and awareness skills as well as practical self-defence skills that increase their confidence.
During the seminar, women will learn no-nonsense, practical skills that will draw upon techniques from Krav Maga, a unique martial art that uses natural reactions and body movements to develop defences against a variety of attacks.
Developed by the Israeli forces, it focuses on technique rather than size or strength, which makes it the ideal form of protective defence for women of all fitness levels and abilities.
Only a handful of fully certified Krav Maga instructors are in operation in the UK today, and Marcus is the only one in Scotland offering defence training for men and women, as well as special training for Scotland's police force and military.
The seminars at his gym, Combat Ready, will teach students how to react to attacks usually aimed at women, including threats, grabs, chokes, punches, kicks and bag snatches.
The sessions will also help increase confidence and situational awareness, helping women identify when potential attacks may occur and prevent these from happening.
Marcus added: "Prevention is more often than not the best form of defence and we want women to leave the sessions with a greater awareness of where and when attacks could occur.
"They will learn to assess situations which could potentially be dangerous and determine who or what may cause potential threats. Once they are able to identify these, they will then be able to make better defensive choices, by either moving themselves away from that danger or reacting defensively.
"Ultimately, the aim of the seminars is to prevent women from becoming victims of attacks it is all about avoidance and de-escalation.
"But, if all goes wrong and you find yourself faced with an attack of any type, self-defence techniques using Krav Maga can be devastatingly effective."
The women-only self-defence seminars, which begin on Sunday, are open to women and girls aged 14 and above.
More information is available at kravmagaedinburgh.com or by contacting Marcus on enquiries@kravmagaedinburgh.com.