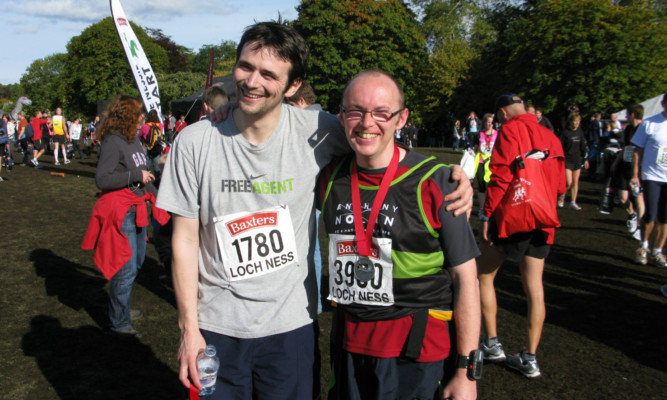 Two seasoned runners are busy gearing up for their toughest challenge yet as they prepare to take on a 55-mile ultra-marathon.
Dundee man Philip Milne and his colleague Michael Miller from Fife have run several marathons together but felt the need to push themselves a little bit harder.
"Talking about it turned into signing up for the Glasgow to Edinburgh Ultra-marathon," clinical embryologist Philip said.
Fellow Ninewells Hospital employee Michael, who works as a gastroenterologist, took up the challenge and the pair have been in training, getting ready for Saturday's race.
The 55-mile run follows the course of the Forth and Clyde and Union canals connecting the two cities and takes in the Antonine Wall and the Falkirk Wheel.
"We did the Deeside 33 a few weeks ago from Aberdeen to Banchory and back again," Philip said.
"We took four hours 50 minutes for that so we reckon we can do the ultra-marathon in 10 or 11 hours."
The pair have already raised about £500 for Children's Hospice Association Scotland (CHAS) and hope to boost their sponsorship as race day approaches.
Philip previously raised 3,000 euros for another charity when he took on the Everest Base Camp challenge in 2007 when he was working in Ireland. He thinks this will be the most difficult challenge yet.
"We are really confident we are going to do it," he said. "
This is a new kind of level ,though. It will be the last one I ever do.
"We've friends helping us as a support team who will meet us at the checkpoints, refuel us and make sure we're not getting too delirious.
"It's the equivalent of two marathons but we're breaking it into smaller breaks. I think if you think of it as 55 miles it's a bit overwhelming. It's not the mental side of things we're worried about, it's the physical things like blisters and sore knees."Philip and Michael have set up a JustGiving page at resoluteevents.co.uk/G2E.html for anyone wanting to sponsor them.