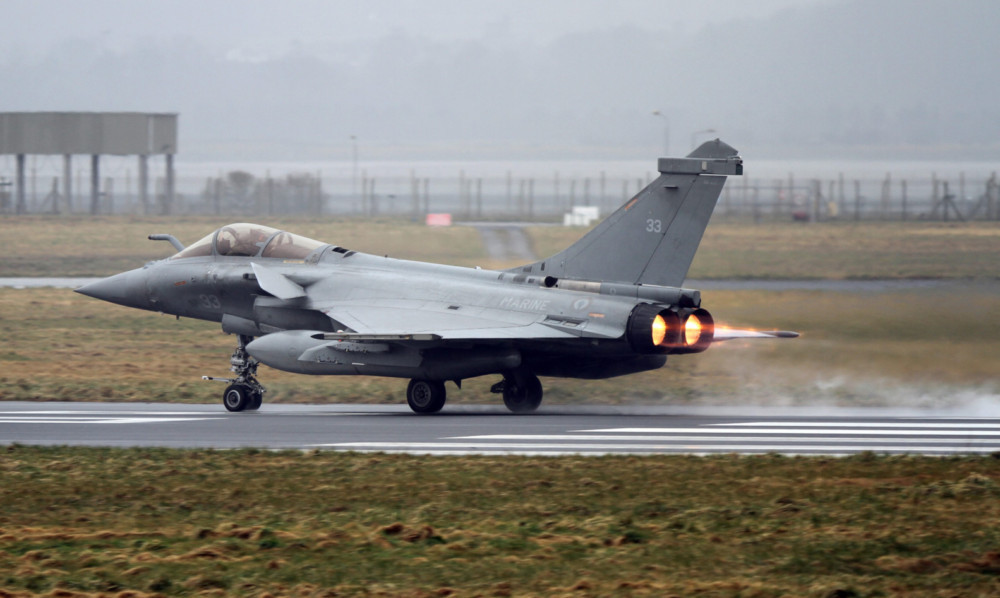 The commanding officer of a squadron which is playing a key role in a major international exercise at RAF Leuchars has spoken of the benefits that come from the British armed services working together with foreign military.
RAF Leuchars is playing a significant part in supporting the largest tactically focused military exercise in Europe which started last week.
Exercise Joint Warrior is conducted in the spring and autumn of each year and provides high quality training for all three UK armed services as well as numerous visiting units from allied nations.
Officer Commanding 6 Squadron, Wing Commander Mike Baulkwill, said of Joint Warrior: "It is a very important exercise for the Royal Air Force as it enables us to train for all sorts of contingency operations that we might meet in the future in this dangerous world. The Exercise allows us to work closely alongside our colleagues from the Royal Navy and British Army along with units from our partner nations."
The 6 Squadron's Typhoons have been flying sorties in two-ship and four-ship formations as well as joining with the 100 Squadron Hawks and Tornado GR4s from RAF Lossiemouth and the French Navy assets to fly Combined Air Operations.
Wing Commander Baulkwill said: "The missions on Joint Warrior range from Close Air Support, protecting troops on the ground, right through to Defensive Counter Air where we are defending airspace or defending points of interest such as naval assets.
"We are operating Typhoon as a multi-role aircraft just as the French are with Rafale. We touch on every skill during the exercise and my pilots are expected to perform in all disciplines of air power.
"Joint Warrior brings together our pilots and our engineers with their French equivalents who have a slightly different way of operating, so we can learn lessons from them and likewise they can learn lessons from us. It is about making surethat when we go and do this for real we can get it right first time."
Joint Warrior began last Monday and is being coordinated from HM Naval Base Clyde.
Planned by a joint team of Royal Navy and RAF personnel, who form the Joint Tactical Exercise Planning Staff (JTEPS), they are augmented by up to 150 members of the military, many of whom are reservists, at the Clyde site.
As well as the UK and France, the participating nations are the US, Canada, Poland, Sweden, the Netherlands, Germany, Belgium, Norway, Italy and Brazil.
There will be 60 separate naval units involved operating at points around the coast of Scotland. There is also significant land participation at Defence Training Estate ranges, commercial ranges, Highland Agency and private land areas around the country.