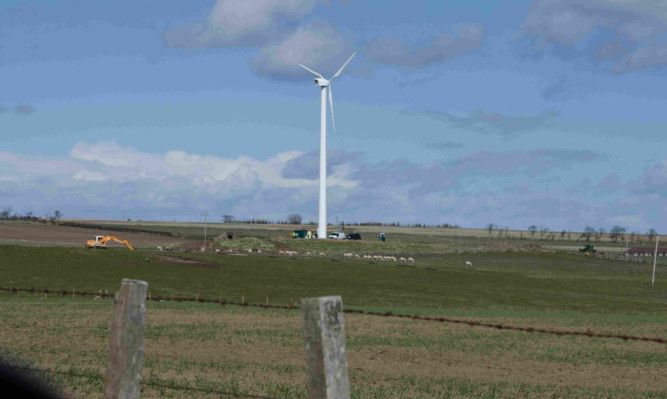 A 'turbine alley' is being created in the East Neuk, campaigners fighting plans for three more allege.
Save Carnbee and Arncroach Landscape and Environment (Scale) says there is a proliferation of the renewable energy generators along the B940 from Higham Toll to Muirhead.
It has urged councillors to see for themselves the countryside between Anstruther and Dunino, where more may be erected, before deciding whether to permit them.
A planning application for the 67-metre structures at Bonerbo, Balmonth and Drumrack farms is due to be determined on Wednesday and Scale wants members of the north-east planning committee to first visit the site and a 47-metre turbine at nearby South Baldutho.
Lucy Smith of Scale said: "It's turning into turbine alley along the East Neuk ridge and we really need to ask ourselves if we want one long continuous windfarm along the East Neuk's landward horizon because that's where we're heading.
"Local people have been horrified by the sheer scale of the so-called farm turbine at South Baldutho it looks like an escapee from an industrial wind factory, dwarfing everything around it. It is impossible to get an accurate sense of the impact a turbine will have on the landscape purely from photomontages or wire frames the South Baldutho turbine shows how applications invariably minimise visual impact.
"Like the South Baldutho turbines, the Bonerbo turbines are being presented as small-scale farmers' turbines when in fact they are of a size and concentration akin to an industrial windfarm.
"Far from being tucked away in undulating ground, they will sit hundreds of feet above Anstruther and become a dominant feature of the East Neuk."
Within five kilometres of Bonerbo, Balmonth and Drumrack, 10 turbines ranging in height from 15 to 47 metres have been given the nod.
Two windfarms with a total of 11 turbines towering 100 and 110 metres are also in the pipeline.
Planners have recommended approval of the Bonerbo, Balmonth and Drumrack turbines which they say will help meet Scottish Government targets for renewable energy production.
They also say the structures can be accommodated in the landscape and are too far away from houses for residential amenity to be an issue.