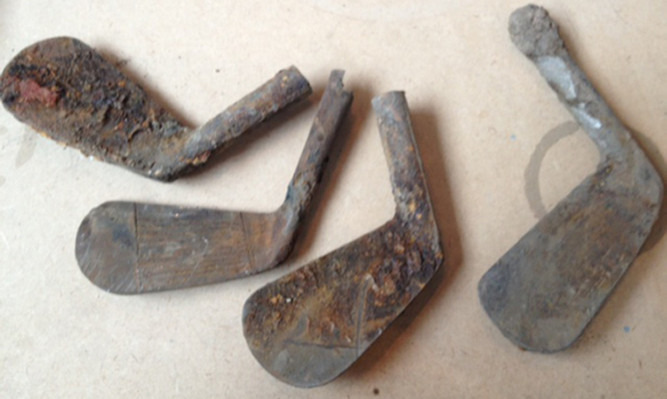 An old set of golf clubs has been discovered at the site of a 19th-century St Andrews factory which is being turned into a bar and restaurant.
Construction workers found the 1-irons, also known as driving irons or cleeks, as they renovated a former warehouse in the Home of Golf.
The warehouse building, opening as Forgan's restaurant and public bar later this month, sits on the site of a former 1-iron factory.
Cleeks are said to have been a signature product made by Forgan, which has manufactured golfing items since the 1860s.
Bosses at the venue plan to put the clubs on display there.
Construction worker Bill Wright was drilling through a floor to put in tables when his tool jammed. He used his hands to dig into the ground and found four Forgan's golf club heads buried 3ft down.
"I was just drilling through the floor beside the new bothy seating area when the drill jammed. I thought it was just a piece of harder stone or metal at first but when I started digging with my hands I could see that it was golf clubs," he said.
"I was so surprised to see them, especially so far down under the flooring. They are a bit rusty and dirty but, apart from that, they are in good condition. It's so amazing to find something so old and to think they could be very rare.
"I heard that the building was once used for making golf clubs but I didn't think there would still be some hidden here. We're all now keeping our eyes peeled for any other interesting finds."
Michelle Nabal, general manager of Forgan's, said: "It's really exciting to find these golf clubs. It gives a real sense of how old the place is and although we are not going to have a golf-themed venue, it reminds us of how important the sport is to St Andrews.
"The original factory dates back to the 1860s so who knows, the clubs could be well more than 100-years-old. It's just amazing to find a bit of the factory's history while we are renovating."
Work was halted so the golf clubs could be removed. They are now being looked at by a golf historian to determine how old they are.
Forgan's sits behind Mitchell's Deli in Market Street and is due to open on May 17.