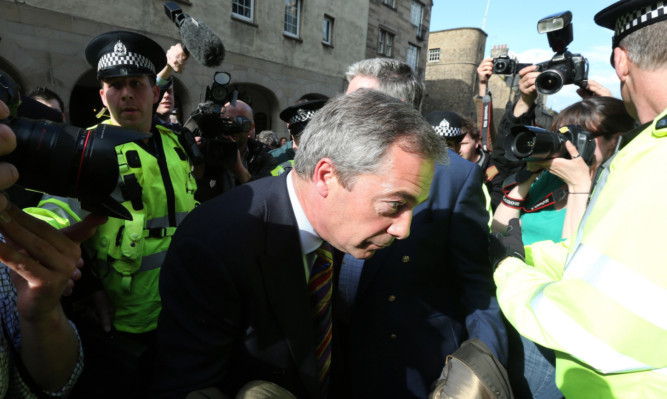 UKIP Scotland's chairman feared he would be stabbed while being ambushed in the streets of Edinburgh.
Former Fife councillor Mike Scott-Hayward spoke to The Courier about the moment a protester lunged at him with a bottle as he was being escorted through the capital by police after party leader Nigel Farage's pub mob drama.
Mr Farage had to be taken back to his hotel in a police van after being holed up in the Canons' Gait bar for his own safety to escape angry protesters.
Describing Thursday's incident on nearby North Bridge, Mr Scott-Hayward, 65, said: "Someone lunged towards me with an object in his hand. I initially thought it was something like a knife because that's the motion he used.
"But then I focused and saw it was a bottle. Obviously, he was clearly going to attack me. I prepared to defend myself, but the police took action instead and the man was arrested. I was splattered with what was possibly a soft drink."
Mr Scott-Hayward, who served with the Highland Gunners before becoming a councillor for Crail in 1986, said his army training helped him remain calm.Holyrood Blog: A close-up view of the Farage fiascoHe praised police for preventing the situation from "getting nasty".
He said: "There was the potential it would actually get nasty and the police were aware of that. They were coming right up to within a foot of my face, with this demonic screaming.
"They were trying to intimidate me, screaming and shouting. I served with the army in Northern Ireland so it didn't bother me. Also, the police were there, and when I walked up the Royal Mile with a couple of colleagues the police escorted me.
"There was a large male police officer to the left of me and a female officer on the right. There was a mob following about 30 people who were pushing, jostling and swearing.
"If I had been on my own and the police hadn't been there, I think some of them might have got violent. The police were superb."
The drama unfolded as Mr Farage was set to hold a press conference in the Canons' Gait pub on the Royal Mile.
According to Mr Scott-Hayward, the UKIP group were heckled in the pub and the duty manager asked for the premises to be cleared after protestors started becoming rowdy. He said Mr Farage was unable to get into a taxi because of the melee outside and the party leader was escorted back to the pub by police to take refuge, leaving UKIP members including Mr Scott-Hayward and Aberdeen Donside by-election candidate Otto Inglis outside.
As Mr Farage was conveyed back to his hotel by police, officers escorted Mr Scott-Hayward and colleagues to safety.
"They brought Nigel out and into the police van, at which point the crowd turned their attention to me," Mr Scott-Hayward said. "I don't think there's anything I can quote apart from 'you're not wanted here'.
"I live here. They say I'm anti-immigration, but I'm an immigrant. Nothing they were saying had any official basis, it was just hate.
"There were 30-odd scumbags hate-filled people who give Scotland an utterly disgusting image. They don't represent Scotland and I hope nobody thinks Scotland is represented by these people."