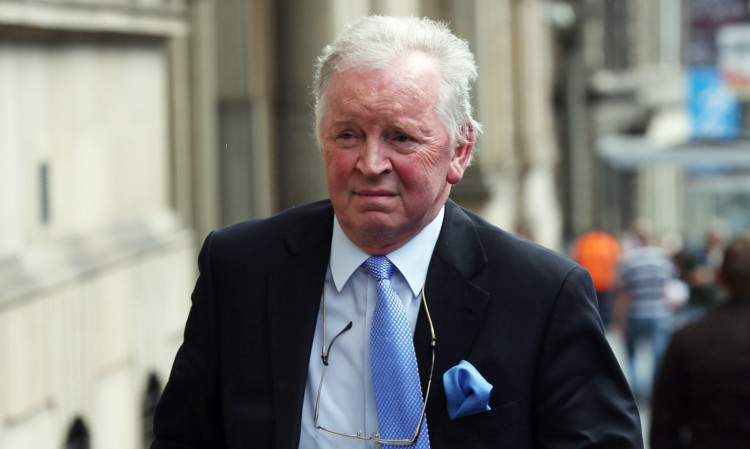 Wife-beating MSP Bill Walker has been branded "shameless" after revealing he has no plans to quit his seat at Holyrood.
A sheriff described the Dunfermline representative as "controlling, domineering, demeaning and belittling" when he was found guilty of a catalogue of domestic assaults against his three ex-wives and a step-daughter.
Because a summary case was brought against the 71-year-old from Alloa, the heaviest punishment he can receive when he is sentenced next month is a year in jail.
Parliamentary rules mean that will not be enough to force him out of his £58,000-a-year role and he could stand again in the 2016 election.
When contacted by The Courier, Walker, who was elected as an SNP MSP in 2011 but now sits as an independent, initially declined to speak about the case but let slip his intention to remain a member of the Scottish Parliament.
He said: "I can't say anything more at this stage.My solicitor has advised me, as per the announcement he made.The case is still in process and I can add nothing at this stage."
When asked if he would stand down, Walker replied: "I never had any plans to vacate my seat and that's it. I will just leave it at that."
Although Walker was staying quiet about the majority of his case, he still issued a press release welcoming a viewing platform set to open on the Forth Bridge.
In an emailed statement, he said he hoped the "major tourist attraction… will bring a substantial boost to the economy of west Fife."
West Fife and Dunfermline Labour MP Thomas Docherty said Walker'sintention to remain in post made it vital that politicians across the board back a bill he is bringing before Westminster to shorten thedisqualification period.
He said: "Like many who commit crimes of domestic violence, Bill Walker isshowing no remorse or contrition for his actions.That is why all parties must now stand together, back my bill and make it clear this shameless individual must go."
SNP leader Alex Salmond called for Walker to quit immediately after hisconviction, adding someone found guilty of domestic abuse "is not fit to be a public representative".
A spokesman for the First Minister last night told The Courier "every word" of last week's statement still stood.
He said: "That is still the FM's position, that someone convicted of those crimes is not fit for public office."
Scottish Liberal Democrat leaderWillie Rennie, said: "I would like to say I'm surprised by Bill Walker's reaction but I'm not. Nevertheless, I'm disappointed that he doesn't understand how serious an issue this is.
"Scotland's Parliament cannot have a wife beater at its heart.A Scottish court has judged him guilty. He should now resign."
Scottish Conservative leader Ruth Davidson said: "It is appalling that Bill Walker thinks he can just carry on as an elected member of parliament as if nothing has happened.
"To make matters worse, hisdetermination to remain an MSP could end up costing the taxpayer hundreds ofthousands of pounds.
"Ultimately, it is for Bill Walker toexamine his conscience and decide if he thinks it would be right to take a large sum of public money from a situation caused by his own misdemeanours."For the latest on this story, see Friday's Courier or try our digital edition.