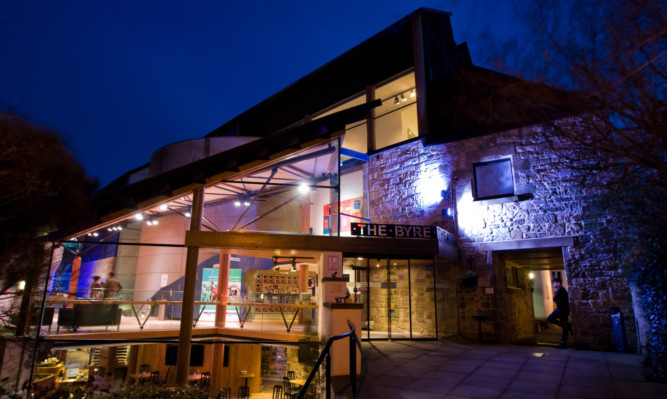 Staff who have been made redundant at the Byre Theatre in St Andrews say they feel "completely let down" by Creative Scotland and Fife Council.
It has also emerged that senior figures within the Byre feel Creative Scotland is "attempting to rewrite history" with its version of recent financial assistance.
However, Fife Council, which owns the building, insisted it had done "all it possibly could" to help, and defended the financial input it provided with Creative Scotland.
The Byre will shut its doors tonight and is facing liquidation, but could re-emerge later this year under a new management partnership between the council and Fife Cultural Trust.
On Wednesday, as the close-knit Byre team packed up, a spokesman said the 25, mainly part-time, staff feel there is a lot more that could have been done to help the Byre get to the end of the financial year.
"A lot of people are very angry and feel completely let down by Creative Scotland and Fife Council," he said. "There is anger that Fife Council looks likely to pick up a ready-made theatre they never planned for or built.
"Creative Scotland and Fife Council have known about our financial challenges for long enough. When we met Creative Scotland and Fife Council last Wednesday, to tell them we thought we were insolvent, they both went away and seemed optimistic.
"We needed around £80,000 to settle our debt until April 1. But the next day they came back and said they couldn't help."
The Byre spokesman noted that Creative Scotland whose predecessor the Scottish Arts Council withdrew £160,000 of flexible funding in 2011 had stated in the press it had given £435,970 to the Byre since 2010, including £130,000 "transition funding" from Creative Scotland and Fife Council.
The Byre spokesman said: "I must say it looks like Creative Scotland are rewriting history. The £130,000 transitional funding was in 2011 to help us restructure as an independent company which we did.
"Fife Cultural Trust had not been invented then. FCT commenced in October 2012 and we agreed to join them in April 2013. No money was offered to ease this new transition."
For more on this story, and further extensive coverage of the Byre Theatre closure, see Thursday's Courier or try our new digital edition.