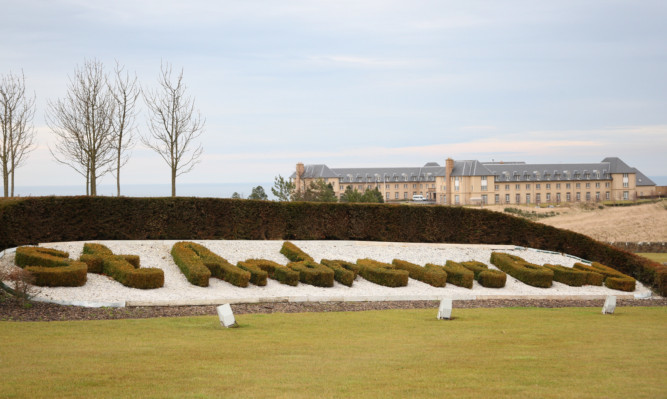 A teenager drove his car on to a St Andrews golf course as he fled a group of nine "burly" cyclists, a court has heard.
Devyn Bell (19), of Arbroath, made off across cart paths around Fairmont Golf Resort because he feared "reprisals" after narrowly avoiding a group of men on bicycles on a country road in Fife.
His diversion on to the course led staff to jump into golf buggies and give chase.
Bell made two close passes at a group of cyclists as he drove his Vauxhall Corsa to a "thrash" event at Crail Airfield on April 15 last year, the court heard.
The first occasion prompted a member of the cycling group to throw a water bottle at Bell's car, angering him and leading him to turn his car around and make a second pass at speed.
Brian Robertson, depute fiscal, told Cupar Sheriff Court: "There was a group of cyclists on the road who saw a Corsa travelling towards them at speed. It moved across the central white line and narrowly avoided them.
"The vehicle then turned and drove past them, again very close to them. They heard the two occupants shouting at them."
Having seen the cyclists Bell "thought better" of a confrontation, and in an attempt to avoid them he turned on to what he believed were dirt tracks.
But the tracks were in fact cart paths used by golfers at the Fairmont complex, which features a luxury hotel and two golf courses, including a championship course designed by former European Ryder Cup captain Sam Torrance.
Although the vehicle was not taken on to the playing surface itself, staff at the resort chased Bell in golf buggies, demanding that he left.
"There were people using the driving range and golf course at the time," continued Mr Robertson. "Staff went in a buggy to see what he was doing. They had to cut across a number of fairways to catch him."
Bell pleaded guilty to charges of careless driving and driving on land that was not a road when he appeared in court on Monday.
Defence lawyer Alan Fraser said: "He was driving round a bend which he took too fast and encountered these cyclists and he accepts he was too close to them.
"One of them took it upon themselves to throw a water bottle at his car and that was what motivated him to turn.
"They planned to remonstrate with whoever had done it but thought better of it because he was dealing with nine burly cyclists. He decided not to have a confrontation and that's when he made off.
"He got on to the golf course but he wasn't on the fairways or, God forbid, the greens. There was, fortunately, no damage to the course."
Sheriff Fiona Tait fined Bell £350 and banned him from driving for six months.