In another milestone on the Queensferry Crossing, the north viaduct has now been fully launched and the feat of engineering has been captured in this amazing new video.
Engineers have completed the hugely complex process of pushing the massive viaduct out across the £1.3 billion bridge's distinctive v-shaped piers on the north side of the Forth.
It means only 64 metres of open space lies between the northern approach road to the deck fanning out from the north tower.
Infrastructure Secretary Keith Brown said: "If any further evidence is required to demonstrate large-scale, world-class engineering, look no further than the latest progress on the Queensferry Crossing.
"Having been fortunate enough to see construction close up and to speak with some of those directly involved in the construction of this structure, I have a true sense of the scale of the work being achieved every day on the project it really is remarkable.
"Completing the north viaduct launch sees the project achieve another significant technical milestone.
"Pushing such a huge structure in such a controlled manner, working to a tolerance of a few millimetres, requires expert planning and execution.
"It is clear that highly skilled and experienced engineers are bringing their knowledge to the project, while others are taking the opportunity to gather their experience.
"This level of expertise is helping to ensure the project remains on schedule to have traffic on the bridge this December."
Michael Martin, project director for the Forth Crossing Bridge Constructors consortium, added: "The launch of the north approach viaduct into its final position has been one of the most technically challenging operations of its type ever performed.
"A massive total of 6,300 tonnes of steel and concrete was launched out 230 metres, in itself a significant feat of engineering.
"But what makes this operation really special is the fact that we had to slide the trailing edge of the moving structure down two ramp walls in order to raise the front edge by two metres.
"This allowed us to pivot the entire structure over the top of one of the two support piers as it moved forwards, resulting in the viaduct structure being at the correct geometry to match the emerging deck coming from the north tower.
"This operation was extremely technically challenging. It required the ingenuity of some of the best engineers in the world, to design and build the structure and devise the method of safely and successfully launching it out into position.
"This is the kind of work being delivered on a daily basis right across this amazing project."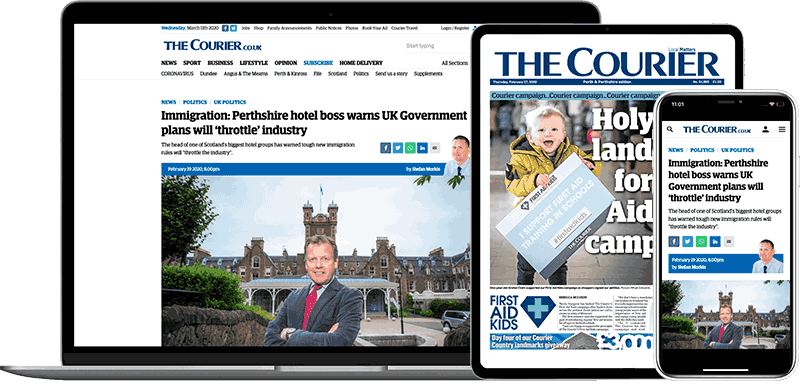 Help support quality local journalism … become a digital subscriber to The Courier
For as little as £5.99 a month you can access all of our content, including Premium articles.
Subscribe