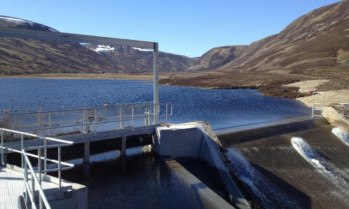 A Highland Perthshire beauty spot that has been attracting visitors for more than 200 years is the scene of one of Scotland's newest hydro power schemes.
The Falls of Bruar at Blair Atholl play an important role in draining a large part of the Cairngorms.
The force of the Bruar Water has since last summer been harnessed upstream of the famous waterfalls at a hydro scheme.
Constructed by the Atholl Estates and partners Gilkes Energy, the Bruar Hydro Project is a 1.9MW medium-head operation that does not affect the falls.
An existing dam had to be reinforced and upgraded to contain the right amount of water which is transferred by a 4.5km pipe to the powerhouse where a turbine converts it to electricity.
David Tomb of Gilkes Energy said: "The project was commissioned about 10 months ago and it is a case of so far so good. It is performing as well as we expected."
Jamie Troughton of Atholl Estates said: "This project is our fourth hydro project with Gilkes and a major long-term investment for the estate and its future."
The Bruar scheme was highlighted by industry body Scottish Renewables as one of the projects that has confirmed Scotland's status as the UK hydro industry's 100% base for new installations.
All UK hydro projects with planning permission are north of the Border 27 schemes totalling 58.5MW and enough to power 42,000 homes, according to its research.
Hannah Smith, policy officer at industry body Scottish Renewables, said: "Scotland's terrain and rainfall mean the country is ideal for the development of hydroelectricity.
"The rest of the UK has historically invested in this technology too.
"These figures show that a huge cut to support in the UK Government's feed-in tariff review in December last year has already caused a contraction in the number of schemes being developed.
"There seems to have been a geographical withdrawal to hydro's traditional heartland.
"Hydropower provides green electricity with very low environmental impacts. Properly-maintained turbines can produce power for more than 80 years.
"Hydro enjoys huge public support, so it was particularly galling to see cuts of 37% imposed on the sector last year."
She said developers are now looking to innovation to make projects financially viable.
This topic will be discussed at Scottish Renewables' Hydro Conference and Exhibition in Perth in May.