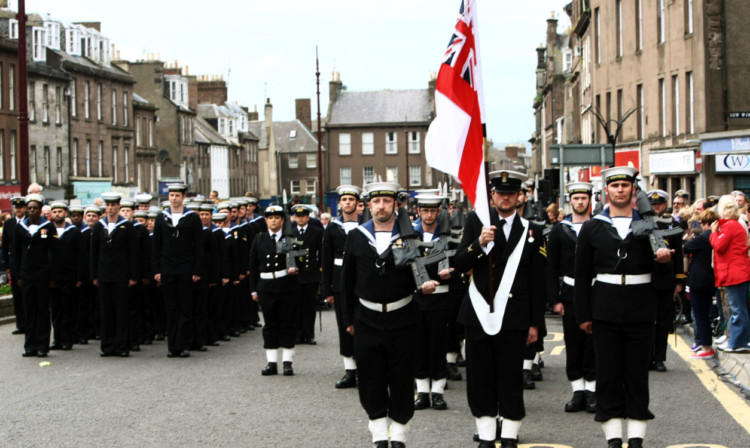 The crew of HMS Montrose exercised the freedom of their Angus namesake for only the second time in 12 years.
The Type 23 Frigate docked at Montrose North Quay on Tuesday, beginning a six-day stopover between operations and a long-awaited return to the community with which it has forged significant links.
Her company marched through town with drums beating and colours flying, led by the band of Her Majesty's Royal Marines Scotland, traversing the length of the High Street from the Mall.
Photo gallery: Town turns out for HMS Montrose parade
Angus Provost Helen Oswald took the salute from the passing troops alongside the Lord Lieutenant of Angus, Georgiana Osborne, regional commander for Scotland and Northern Ireland Captain Chris Smith, and Montrose's commanding officer, Commander James Parkin.
Mrs Oswald said: "We are extremely proud that wherever you serve, you carry the name Montrose. You are superb ambassadors for this burgh and for the county of Angus.
"Be assured that wherever in the world you serve, a warm Angus welcome will always await you, here in your hometown port."
HMS Montrose was conferred the town's freedom in 2002 and is marking its 20th year in service with the Royal Navy, having been built on the Clyde in 1992 and commissioned in 1994.
Commander Parkin said: "In those two decades we have felt an emotional, intellectual and personal connection with Angus, and more particularly with Montrose.
"We've only made it to this town three times before now, and the last time was a long six years ago.
"But in the intervening period we've always known wherever we go in our history we've steamed over 600,000 miles that we remain in your hearts, because you remain in our hearts."
The ship will open its gangway to the public between 10am and 5pm today and Commander Parkin said he hopes the public will take advantage of a rare opportunity to look around a working warship.
The ship's company will also take part in a march in Dundee on Saturday to celebrate Armed Forces Day.