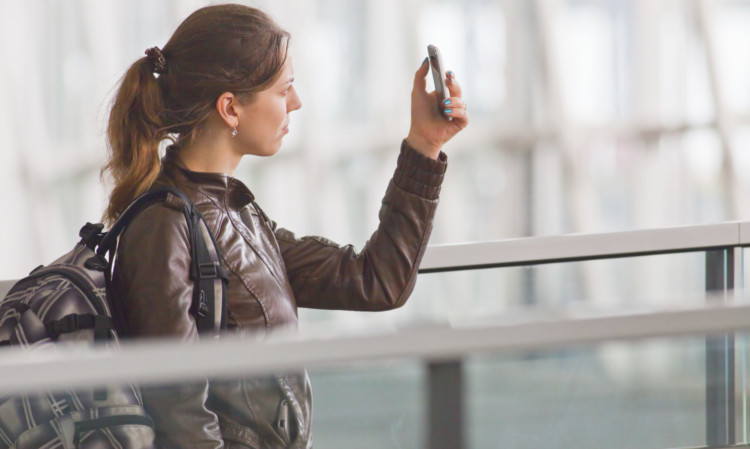 Strict new airport rules mean if your mobile or other electronic device is out of power, you may not be allowed to travel. Caroline Lindsay finds out more.
Picture the scene. You are about to leave home for that longed-for holiday in the sun: passport, check; tickets, check; mobile phone, check. But if that mobile isn't properly charged, you could find yourself in hot water instead of on a hot beach.
Stringent new airport security measures announced yesterday mean passengers will have to prove their electronic devices including mobile phones, e-books, laptops and tablets are switched on and working, amid fears these gadgets could be packed with explosives rather than electronic gubbins. The move is based on US intelligence fears of a terrorist attack by Islamist extremists, and will affect hundreds of flights globally.
The new rules mean passengers may be asked to turn on any electronic or battery-powered devices in front of security teams and demonstrate they work. There will be limited facilities at airports to recharge electronic items but if your gadget is broken or you can't show it has power, you will have to leave the device behind or, depending on the airline, you may not be allowed to board at all.
Official advice to travellers from the UK's Department for Transport had been limited to those "flying to the USA" but now affects those "flying to and from the UK", stating: "Make sure your electronic devices are charged before you travel. If your device doesn't switch on, you won't be allowed to bring it on to the aircraft."
The UK's transport secretary, Patrick McLoughlin, said: "For obvious reasons we will not be commenting in detail on the measures or the routes affected. We will work with the aviation industry to minimise disruption as far as possible." While he stressed there is no change to the terror threat level, he continued: "We face a constantly evolving threat from terrorism and must respond accordingly."
A statement from British Airways read: "Safety and security is our top priority at all times and we continue to work closely with airports and governments around the world. We are complying with the new UK and US regulations and would advise customers to arrive in good time for their flights both at check-in and also at the boarding gate.
"We would advise that customers flying on routes into and out of the UK as well as on flights from the UK to US cities ensure that their electronic devices are powered up, as there may be extra searches and checks before boarding.
"Our flights continue to operate as normal and we would advise customers to check our website for the latest information before they travel."
So has airport security gone too far? Dr Ian Ferguson, lecturer in digital forensics and cyber security at Abertay University, doesn't think so. "I suspect that people who have an interest in inventing explosive devices are continually trying to develop new ways of hiding them and an electronic device is an obvious way to do so," he said.
"When the phone, laptop or whatever goes through the scanner the operator will see a battery and wires. If it has a bomb in it, a battery and wires will show up here also, so it's important to check the authenticity of the device by checking it works in the way it's meant to work.
"This is quite literally an arms race. If terrorists can no longer carry on an explosive device in a plastic drinks bottle, in their shoes or in their clothing think of the 'underwear bomber' who tried to detonate plastic explosives hidden in his underwear while on board a flight from Amsterdam to Detroit, Michigan, on Christmas Day in 2009 and now an electronic device; they will continue their never-ending struggle to find a new hiding place."
Ian doesn't think the new checks will put passengers off travelling. "If you look back at previous scares, you might possibly see a short-term drop in passengers but, if nothing untoward happens, it soon returns to normal.
"I hope people will stop and think 'I'd rather spend an extra half an hour at the airport than risk jeopardising my flight.' Most people would make sure their phones and so on were properly charged up before they went on holiday, anyway, but if you're taking a connecting flight make sure you've got enough power to take you right through," he advises.
Confiscating an electronic device is one thing but Ian feels actually preventing someone from boarding their flight is a step too far. "This is just my gut reaction, rather than from an academic point of view, but I think that if you have been deprived of a suspicious means of causing an explosion, it's counter-intuitive not to then be let on the plane."
John Kettles of Perthshire company Blast Design Solutions, whose remit includes carrying out specialist explosives trials simulating possible terrorist IEDs (improvised explosive devices) for the MoD and the Home Office, said: "There is a perceived increase in the threat level because of the current situations in Syria and Iraq, and so there is an increased level of security at airports.
"Is it a knee-jerk reaction? Who knows, but it affects all of us. The first line of defence is a deterrent to put weak-minded people off and airports are doing what they can under what they see as a perceived threat.
"But a terrorist doesn't have to be too bright to work out how to put another battery full of explosives inside the battery of an electronic device. Even a small amount of explosive can blow a hole in a plane. Explosives contain a lot of nitrates, which give off a detectable vapour, but if they are kept at various temperatures they can be less detectable.
"Technology at airports is as good as it gets but it also takes trained staff with intuition to catch someone up to no good. The problem is, you never catch up because terrorists' methods change all the time and you have to try to be one step ahead."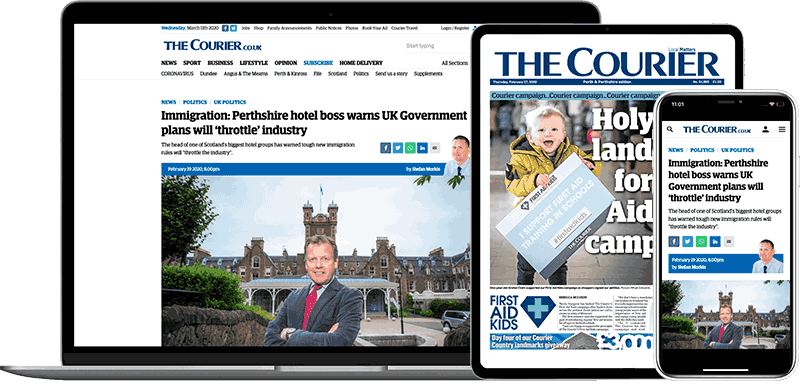 Help support quality local journalism … become a digital subscriber to The Courier
For as little as £5.99 a month you can access all of our content, including Premium articles.
Subscribe