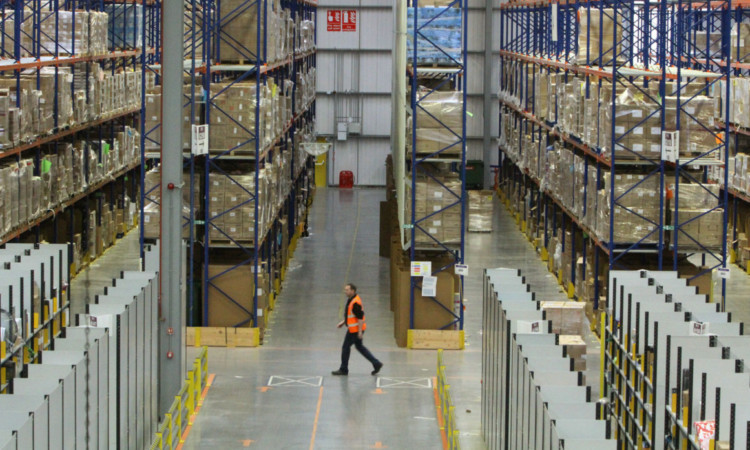 Amazon has angrily denied claims that working conditions at one of its major distribution centres could cause "mental and physical illness" for employees.
The company, which runs a distribution centre near Dunfermline employing hundreds of people, also denied that its shift system is unlawful after a BBC reporter worked undercover at the company's depot in Swansea for seven weeks.
Amazon is recruiting around 15,000 employees to help with the Christmas rush.
The Panorama report, screened on Monday night, revealed that staff employed as "pickers" at the 800,000 sq ft warehouse are expected to collect a new item on foot every 33 seconds to fulfil orders.
To give some idea of the size of the centre, a football pitch is 77,625 square feet.
Each picker is given a handset that tells the worker what item to collect and gives them a set number of seconds to find it. If any mistakes are made the handset beeps.
Professor Michael Marmot, an expert on work-related stress, told the BBC: "The characteristics of this type of job, the evidence shows increased risk of mental illness and physical illness.
"There are always going to be menial jobs, but we can make them better or worse."
Amazon has also been criticised for the length of its shifts. Staff working nights do a 10-and-a-half-hour shift, with an hour's break. However, experts claim shifts should be no longer than eight hours if the work involves physical or mental strain.
However, Amazon said: "The safety of our associates is our number one priority, and we adhere to all regulations and employment law. Independent legal and health and safety experts review our processes as a further method of ensuring compliance.
"We are proud of providing a safe and positive workplace and strive for continuous improvement. Amazon has retained an independent expert who has visited our buildings and associates. In the independent expert's opinion, a picking role is similar to jobs in many other industries and does not increase risk of mental and physical illness."
He added that employees are warned about the physical nature of some of the work before they start with the company.