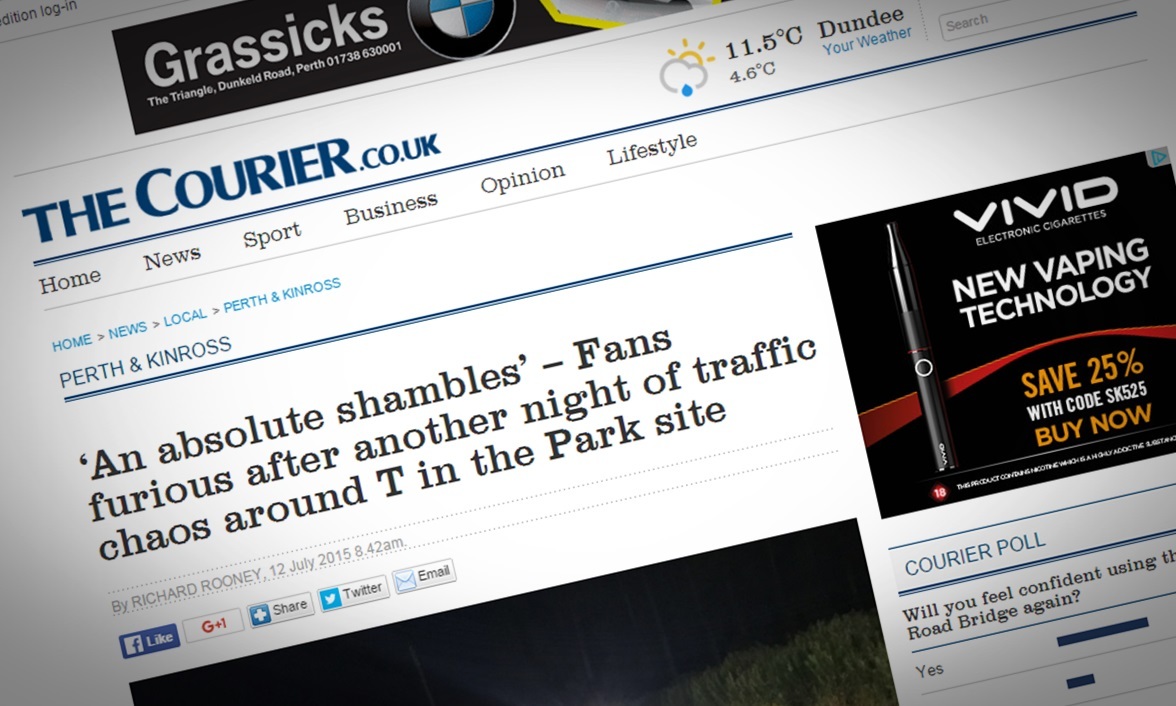 As we approach the end of another busy year, it's time for our annual run-down of the stories that grabbed most attention.
The Courier believes local matters, and our readers clearly agree our top stories, photos and videos all concern life in Courier country.
So here's our guide to what got you clicking on www.thecourier.co.uk this year:
"You as an organisation disgust me and we will never be back."
That was one parent's angry message to T in the Park chiefs after a second night of traffic pandemonium at the festival in July.
Where the Friday night was bad, Saturday night at the new Strathallan site was awful.
Heavy rain throughout much of the day meant car parks were reduced to mudbaths in many places, and our Sunday morning report was read by thousands of angry fans and their worried families back home.
Courier readers love a parking story.
Last year's top story was about parking tickets, and the second most-read in 2015 was the tale of a woman whose designated space became "the most famous in Dundee".
The pain of missing family members was the common theme of our third most-read story.
When a body was found in a Glenrothes park in Agust, two families desperately awaited news.
For Wayne Fleming's loved ones there soon came confirmation that his remains had been found, but the mystery continues for the Bryants more than two years after their son Allan was last seen.
September brought one of the feelgood hits of the year, when young piper Daniel Boyle took matters into his owns hands to shut down a noisy street preacher.
The story was picked up by media across the world but The Courier was there first.
It's another sad story at Number 5, and the tragic death of young Kairon McKay.
His mother's loving words captured the hearts of thousands who were struck by the sadness of a young life taken so soon.
Motorbike fans from across the country gathered in Dundee before staging a spectacular ride-out in tribute to Arbroath rider Andy Lawson in August.
The Angus man died in an accident in Ulster, and traffic came to a standstill as hundreds of bikes followed his coffin home.
We told your our readers love a parking story.
This one topped the charts in 2014, and continues to be read by thousands a year and a half later.
When ScotRail said it was looking to recruit 100 drivers in September, people were interested.
When it said it would pay them up to £43,000 people were VERY interested.
Not everyone admitted to being interested in the royal visit, but the stats proved we love to see our area in the limelight.
Our exclusive revealing Kate and William would visit Dundee later in the year was our ninth most-read article.
A dramatic day in Kirkcaldy completes the top 10. Police continue to probe the incident.
PHOTO GALLERIES:
1: Outlander filming causes a stir in Fife
2: See the £3.4 million dream house on the market in Perthshire
3: Crash chaos on A92 near Arbroath
4: Thousands enjoy flashback to the 80s at Rewind Festival
5: Dundee United's Tannadice through the years
VIDEOS:
1: St Andrews piper defeats street preacher 'in the most Scottish way possible'
2: Hundreds line route as bikers see tragic Andy Lawson home to Arbroath
3: Tempers flare at Irish republican protest in Dundee
4: Incredible scenes as homes and businesses are flooded in Alyth
5: Facebook video of 'T in the Park bottle attack' being investigated
From everyone at The Courier, we thank you for your interest in 2015 and we look forward to providing some exciting new digital services in 2016.
We wish you all a Merry Christmas and a Happy New Year.