A robot named after Tiger Woods has sent the golfing world into a frenzy after scoring a hole-in-one in front of 20,000 fans.
In scenes that are sure to amaze and alarm, LDRIC a play on Woods' first name Eldrick sank a tee shot at the 16th hole at Scottsdale, Arizona.
The clip went viral, with many welcoming LDRIC as a major gain for science and technology.
The smiley-faced golfbot was challenged to replicate a shot by his real-life counterpart, who aced the 163-yard, par-three hole as a 21-year-old, during his first season as a professional.
https://youtube.com/watch?v=hFQb0Q3NHIQ%3Frel%3D0%26controls%3D0%26showinfo%3D0
The shot set Woods on a course to become a sporting phenomenon and video of the historic moment shows him pumping his fist in celebration, as the well-oiled hordes go wild on the sidelines.
It happened in 1997, two years after Woods made his Open debut at St Andrews.
LDRIC's tee shot sparked similar scenes of mass celebration, with fans showering the green with beer.
The machine real name Launch Directional Robot Intelligent Circuitry was created by Gene Parente, the owner of San Diego-based Golf Laboratories Inc.
He is widely used in the industry to test new club technology and can be programmed to swing a club perfectly.
The robot can also replicate faults so that manufacturers can develop clubs that are more forgiving to poor shots.
If LDRIC ever chooses like Woods to tour Scotland, he would be made more than welcome at Gleneagles.
Director of golf Gary Silcock said: "The Gleneagles clubhouse is an inclusive place which welcomes golfers of all abilities from across the world, so of course LDRIC would be given the same warm welcome if he paid us a visit.
"The weather conditions in Auchterarder are somewhat different from Arizona, though, so if LDRIC came to Gleneagles he might not find a hole-in-one so easy to pull off and might have to refine his hand-eye coordination skills to cope with the unpredictable wind conditions."
Mr Silcock added: "We'd also have to break the news to him that as we don't have a robot competition or indeed any robot members at present it would be unfair to let him compete in our normal fixtures."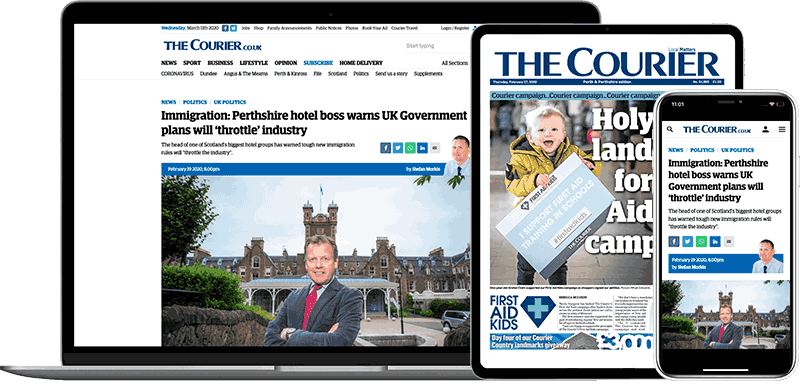 Help support quality local journalism … become a digital subscriber to The Courier
For as little as £5.99 a month you can access all of our content, including Premium articles.
Subscribe