Even the best drivers sometimes make mistakes on the road but now motorists across the country are being shamed online for their worst errors.
Whether it is a lorry failing to stop at a junction or even a plane crashing into a city, spectacular videos filmed on dashboard-mounted cameras are everywhere.
The rise of the dashcam was demonstrated in the footage above released earlier this month by Surrey and Sussex police. Incredibly, it shows the same accident from two viewpoints as both the biker and van driver had cameras running.
The UK has seen a 918% year-on-year rise in the number of dashboard cameras sold and, with so much footage now being gathered, there are dozens of channels devoted to showcasing some of the worst, and often some of the luckiest, driving imaginable.
From buses blocking dual carriageways or cyclists coming off their bikes after getting caught in Edinburgh's tram tracks, footage soon ends up online and often leads to prosecutions if a clear offence has taken place.
Dashcams were originally popularised in Russia, where the driving is notoriously bad and the footage was used to provide evidence of who was at fault in an accident.
https://youtube.com/watch?v=itMdLTd1l4E%3Frel%3D0
As the price of the cameras fall some use smartphones, while the cheapest dedicated models now cost less than £30 they have become increasingly popular across the UK.
Once installed, they begin recording as soon as the engine starts and film on a loop so nothing is missed.
Websites like Scotland's Worst Drivers and YouTube channels like Dashcam Dundee regularly post new videos of terrible driving.See also: Why insurers may reward if you record A spokesman for Scotland's Worst Drivers said the site was originally intended just to capture the capital's most reckless drivers, but soon realised it was a nationwide problem.
"Originally we launched as Edinburgh's Worst Drivers in January 2013 but late last year we re-branded to Scotland's Worst Drivers as we realised the problem was bigger than we thought, and the problems we experience on Edinburgh's roads are not isolated cases," he said.
He hopes drivers will take fewer risks on the road once they realise their worst mistakes could be made available for all to see online.
https://youtube.com/watch?v=LAzku3R_6FQ%3Frel%3D0
"Dashcams are fast becoming an essential piece of kit when driving and they're mainly there for our protection," he said.
"However, many see footage as entertainment to laugh and joke at and not see the actually offences being committed.
"Our approach has always been to shame bad driving in the hope drivers will clean up their act and in turn make our roads safer.
"The majority of footage is submitted by members of the public. To date I don't think we have had any requests to remove videos."
YouTube user Scot Driver also uses his dashcam to shame bad drivers.
He wrote: "There are too many people driving around on our roads who seem intent on causing accidents, or near misses.
"There are also many who are rude, reckless, inconsiderate and downright stupid. We've all seen them and at times we may even be guilty of the odd mishap."
Police Scotland remains sceptical that dashboard cameras will improve driver behaviour.
While the evidence caught on dashboard cameras can be invaluable to police investigating motoring offences, the head of Tayside division's road policing unit had said their use is unlikely to raise driving standards overall.
https://youtube.com/watch?v=pv8woZS5NJM%3Frel%3D0
Inspector Brian Poole, head of Tayside Divisional road policing unit said: "I am aware of the increasing number of vehicles being fitted with dash-mounted camera systems.
"Whilst it is clear that appropriate use of technology can enhance road safety I have yet to find definitive evidence that supports the view that such camera systems actually improve driver behaviour."
Inspector Poole added: "Where footage is captured by a dash-mounted system that is relevant to any police investigation it will be reviewed and assessed on its own merits.
"It would thereafter be a matter for the courts to judge the relevancy and admissibility of the content during any future proceedings.
"Where a decision is taken to fit a dash-mounted camera system, it must not be in a position to block the driver's view of the road.
"A driver must be in proper control of their vehicle at all times and a camera system must not be allowed to become a distraction."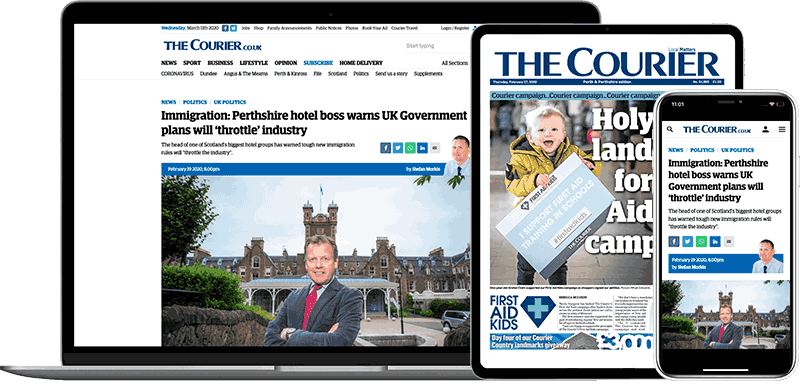 Help support quality local journalism … become a digital subscriber to The Courier
For as little as £5.99 a month you can access all of our content, including Premium articles.
Subscribe