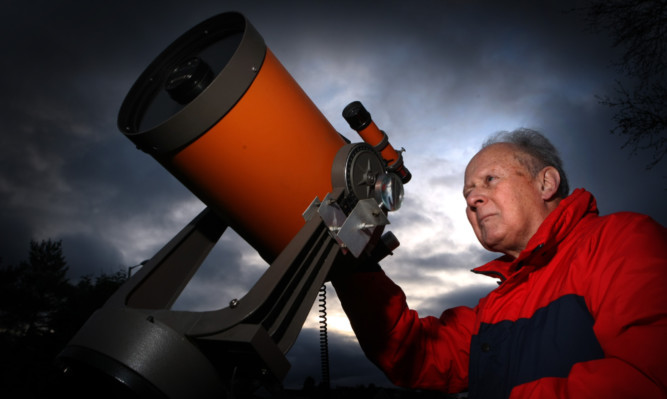 It's a cold, crisp, clear February evening in rural Fife, and even without the aid of a telescope or binoculars, the constellations are visible in all their glory.
Overhead are Perseus, the kite shaped Auriga and the bright yellow star Capella.
Below Auriga is Taurus with its wonderful open clusters, The Seven Sisters, or Pleiades and the "V"-shaped Hyades.
The distinctive Orion's belt is now well up, whilst in the western sky, the head of Pegasus is getting close to the horizon. Cygnus is standing on its head as it flies down towards the north-west.
The Little Bear, Ursa Minor, is hanging directly down from Polaris, and The Plough is now standing straight up balanced on the "handle".
The planets Jupiter, Mars, Venus, and Saturn are also distinctive in the southern sky at this time of year whilst the spectacular smudge of the Milky Way is visible arcing overhead.
It's impossible not to feel a sense of awe and wonder when gazing into the night sky like this. It's a humbling sight that our forebears have marvelled and wondered at since the dawn of humankind a bond stretching back through the millennia, long before we were able to fly into orbit ourselves.
Look skyward at the right time after a check of the International Space Station website, and it's even possible to see the ISS fly overhead at a staggering five miles-per second. How remarkable to think that British astronaut Tim Peake and his colleagues are aboard that hurtling speck.
And yet according to the Commission for Dark Skies (CfDS), set up by concerned members of the British Astronomical Association (BAA) in 1989, it's becoming ever more difficult for amateur astronomers and non-astronomers alike to enjoy the beauty of the night sky.
The Commission now has a network of over 140 volunteer local officers and several hundred committed supporters whose aim is to counter the ever-growing impact of 'sky glow' which has tainted the night sky over many parts of Britain since the 1950s.
Poorly aimed streetlights, poorly-mounted household security lights and sports centre floodlights are all on the hit-list when it comes to putting pressure on local councils and organisations of the benefits of well-directed lighting.
It's a campaign that Tayside amateur astronomer, and secretary of the Dundee Astronomical Society, David Paterson understands.
He believes the starry sky is, unofficially but undoubtedly, a site of special scientific interest and an area of outstanding natural beauty that should be protected.
From his garden in the Carse of Gowrie, far enough away from the glow of Dundee's night scape, he can spend hours wrapped up in the dark and cold gazing skyward with his six-inch reflector telescope.
Born and raised in Galashiels, the 63-year-old's life-long interest in astronomy began when growing up in the Borders which had some of the country's darkest skies. It was as a member of the astronomy club at Galashiels Academy that he first viewed Saturn's rings through a refractor telescope. He didn't own a telescope until relatively recently instead using binoculars for 30 years to observe galaxies, clusters and nebulae.
Nowadays, the former Dundee computer games designer has even more reason to be interested in the night sky as he works as a software engineer with award-winning Dundee-space company STAR-Dundee.
He works on space craft data handling systems which are sold to Nasa and China, amongst others.But he likes nothing better than getting out into the dark to view the night skies for real weather permitting of course! and helps arrange regular meetings of the Dundee Astronomical Society, which was founded in 1956 and is affiliated to the British Astronomical Association,.
It meets at the city's Mills Observatory. Although summer opening hours at the observatory were lost due to city council budget cuts, he says a "good compromise" has been reached with winter openings and a lecture programme.
He said: "Light pollution can be a problem round here. A lot of street lights shine light up instead of down. It's a waste of energy. But given the costs, it would be unrealistic to expect the council to replace all of its street lighting. What we can do is try to encourage the council to replace street lights with more efficient lighting as and when required."
Dundee City Council can lay claim to being one of Scotland's greenest urban areas when it comes to street lighting. It consumes the least amount of electricity annually per street light and has the lowest carbon footprint of any Scottish city. It is also one of Scotland's leading councils when it comes to the introduction of LED light technology in street lighting, according to a recent report.
David said the Mills Observatory itself, on the summit of the dark and wooded Balgay Hill, is well placed to avoid most light pollution. The council-run facility, which was Britain's first purpose-built public observatory when gifted to Dundee in 1935, houses a range of telescopes.
He said astronomy had such an important role to play to help get young people into science and being able to look skyward was an important way of achieving that.
He added: "The night sky helps give kids a wider scale of the universe. We need more young people to get into science and technology in general. Astronomy is a great way of sparking an interest in the bigger picture but only if the skies are visible!"
Ken Kennedy, 73, a director at the British Astronomical Association (BAA) who specialises in aurora activity, is a retired Ninewells Hospital haematologist living in Broughty Ferry.
He joined Dundee Astronomical Society in 1958, but his interest goes back to his pre-school days.
Ken never considered astronomy as a professional career. The idea of flying appealed to him, but after being rejected by the air force because of his eyesight, he eventually settled on transfusion science.
More recently he has become something of an expert in the study of noctilucent clouds. There is growing scientific evidence of their link to climate change.
He is amazed how technology has improved to the point where £250 will buy amateurs a good quality telescope, with digital camera technology revolutionising the ability to capture images.
But again it's light pollution which poses problems across the country, he said, and he often heads to the countryside to get a better view of the night sky.
"It's a major problem in a place like Dundee, "he added. "Obviously professionals have gone to places like Hawaii to set up telescopes there. But for amateurs it limits what you can view. In the urban and suburban areas of Dundee, amateurs can still view the moon and the planets, but looking at faint galaxies and nebulae become almost impossible. You've got to get away from the lights nowadays."
Mr Kennedy said that when he worked at the Mills Observatory for four years as part-time astronomer, he was amazed at the "audible gasp" from many young people when they came in to see a planetarium show.
He added: "For many youngsters the night sky doesn't exist. They don't even look up. And yet the great thing is they respond so vigorously when shown it. It's amazing the response and the questions that come out. For me it would promote the interest and understanding in science if more people could see the stars."
Commission for Dark Skies co-ordinator Bob Mizon, whose home town of Bournemouth has a major issue with light pollution, believes it is a "tragedy" that light from the rest of the universe takes hundreds, thousands, even millions of years to reach our eyes and yet it can be lost to us in the last millisecond of its journey.
Bob, an amateur astronomer and planetarium operator who has been campaigning since 1990, added: "If I repeatedly dumped rubbish in a field, then I would be sent to prison. And yet the government still doesn't have a coherent policy on protecting the night sky. Where there's sky glow, you are effectively losing half of the environment if you think about it.
"Most British children cannot step outside and see the night sky because there's too much light pollution. It's a tragedy. Imagine the outcry if children were told they could no longer see the fields?"
Bob believes the coming debate involving light pollution will probably be about fracking, if drilling is ever permitted in the UK. Uncontrolled lighting and flaring from fracking has become a major issue in North Dakota in the USA.
Get away from the city lights, however, and Courier Country still has many places where a clear view of the night sky is possible. And there are a growing number of photographers in Fife and Tayside who specialise in photographing the northern lights (aurora borealis). One of them is Ben Hirst of Broughty Ferry. Another is Corinne Mills who lives in the hills south of Kilmany. She said: "Although not often visible to the eye unless it's a big storm the camera can pick it up easily and it's seen more often than you would think."
Of course, sky glow wouldn't have been an issue more than 150 years ago when a church minister from rural North East Fife first suggested that rockets could fly to the moon and go faster in the vacuum of space.
Four years before French writer author Jules Verne imagined the concept in his 1865 novel From Earth to the Moon, the Rev William Leitch, a Presbyterian minister from Monimail near Cupar, was the first to develop the idea that not only could rockets fly in space but could do so more quickly and smoothly outside Earth's atmosphere.
That put a new spin on the conventional history of space exploration, adding the theory of spaceflight to the long list of technical and engineering triumphs claimed by Scots, including the television invented by John Logie Baird or the telephone invented by Alexander Graham Bell.
Rev Leitch's role is often overlooked in the annals of history.
And yet it's another Fifer, Professor Anneila Sargent, who now sits on the United States National Science Board, the team of academics advising Congress and US President Obama.
Raised in Burntisland, the Edinburgh University physics graduate, who emigrated to the USA after doing her PhD at the California Institute of Technology (Caltech), became professor of astronomy at Caltech in 1998. That in turn led to a phone call from the White House in 2011 inviting the mother-of-two to serve a six-year term, making her one of six women on the 25-strong NSB.
With interests in the fields of star formation, and the possibility of other life forms beyond the solar system, the now 71-year-old credits her early progress to Bill Ritchie, a physics teacher at Kirkcaldy High School.
Another North America-based expert with recent Fife connection is former Nasa astronaut Duane Carey.
In September the former space shuttle pilot gave an inspirational lecture at St Andrews University after being invited over by student Tomi Baikie. Carey firmly believes in the power of education to help young people attain their full potential. And he also believes clear night skies are essential.
Speaking from the USA, Carey said: "My belief is that light pollution, since it can be mitigated with relatively simple changes in behaviour and I don't believe there to be any downsides to doing so, should be addressed. If nothing else, doing so makes it a lot easier to land aircraft at night in congested areas. So, yes, we should be working to reduce light pollution."
The educational importance of astronomy is one already recognised by St Andrews University, which regularly opens up its James Gregory Telescope to the public, and also through its involvement with the Space School project, encouraging Fife pupils to engage with science.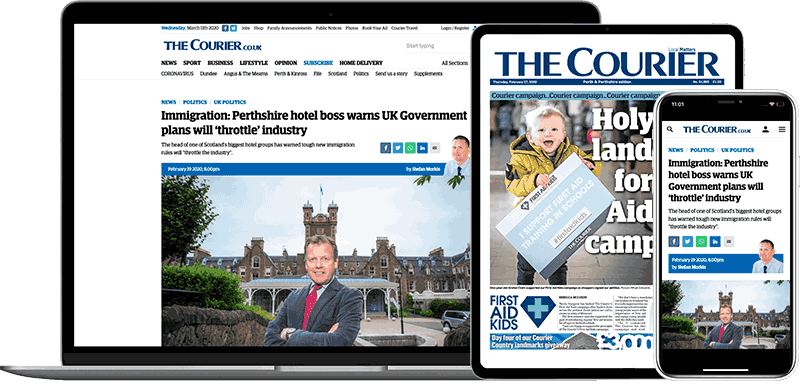 Help support quality local journalism … become a digital subscriber to The Courier
For as little as £5.99 a month you can access all of our content, including Premium articles.
Subscribe