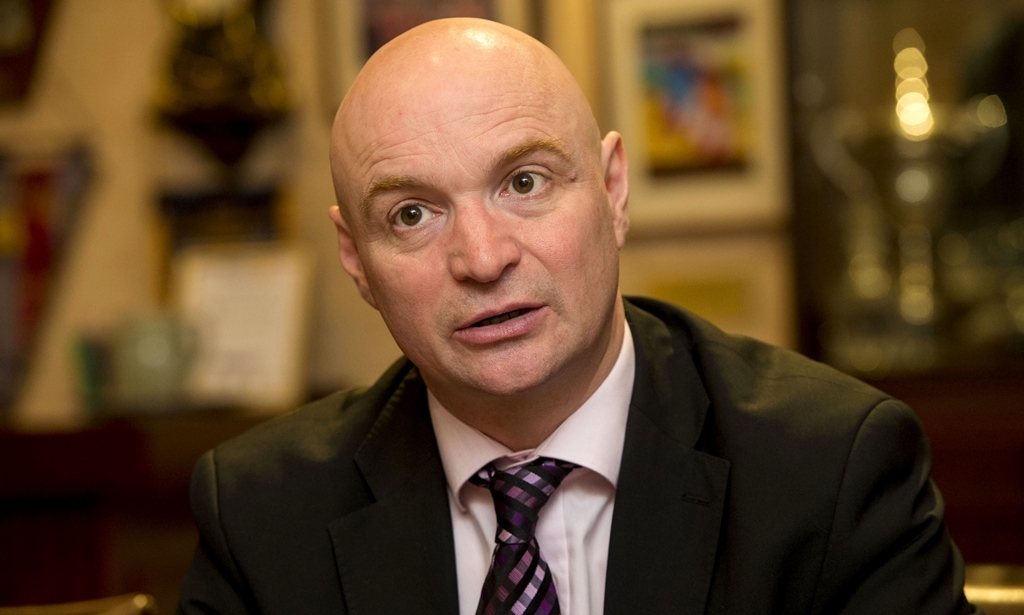 Dundee United chairman Stephen Thompson has launched a defiant defence of what was the "toughest decision" of his time at Tannadice.
In a frank and forthright interview, Thompson revealed how he has been "hurt" by criticism of the sale of Stuart Armstrong and Gary Mackay-Steven to Celtic on transfer deadline day.
The Tannadice supremo was in Australia exploring the possibility of buying A-League side Newcastle Jets interest that has now cooled when the £2 million double deal was done.
The combination of his presence Down Under looking at an investment opportunity and big money coming into United led to some questioning of the motives behind the Armstrong and Mackay-Steven transfers.
The notion that the two things could be connected was shot down by Thompson, who also revealed that manager Jackie McNamara's player budget has increased rather than been reduced and highlighted the forthcoming League Cup final, Scottish Cup quarter-final and competitive position in the Premiership as proof that the playing side has not been neglected.
Thompson revealed that United would be moving to pay back soft loans to their friendly creditors to a considerable degree, thus edging ever closer to the long-term goal of a debt-free declaration.
And, in recognition of the loyalty shown by a fanbase that is up 10% at home this term and is on course to number 18,000 at the March 15 final against the Hoops, season ticket prices will be frozen for next season.
Commenting on the departure of their talented duo to Celtic, Thompson said: "That was probably the toughest decision I have ever made at this club.
"I have made a few tough decisions in my time but that was really, really hard.
"They didn't ask for a transfer as such.
"However, one of them (Mackay-Steven), through his agent because they do all the work, made it clear he wanted to go.
"The other one (Armstrong) had a year left but he signed that extra year on the assumption that if the right offer came in from a club he would like to go to then we wouldn't stand in his way.
"So they didn't ask for a transfer as such but their heads were turned and they wanted to go.
"The club was compensated for losing them but we did what we did in the long-term interest of the club.
"I understand how some fans feel.
"I remember when United sold Kevin Gallacher (to Coventry City for £950,000 in 1990). I said I wasn't going back. He was my favourite player and I was so disappointed. I did go back, though, and I'm still here!"
Thompson is still there but he has been stung by criticism that has come his way.
"I am feeling a bit hurt," he admitted.
"I have always looked after the best interest of this club and my family has sacrificed a lot.
"I am still sitting with a six-figure loan so to question my commitment to United is unfair.
"There has been a questioning of my ambition for the club and I don't think that's fair.
"I think the timing didn't help because I was in Australia when the sale happened and people put two and two together and got nine and a half.
"People were saying, 'Oh the money is going to be used to let him go to Australia.'
"Well, let's be clear on that.
"The club originally was looking at doing something but walked away from that at the end of the December.
"I have, personally, pursued looking at the opportunities over there because they are enormous. It is a growth market.
"However, that would never be done to the detriment of Dundee United in any shape or form.
"It is a completely separate thing.
"And, being honest, I have cooled my own interest for lots of reasons.
"Maybe that will change and further down the line something can happen but that's not for now.
"The only thing that is due to me is my soft loan. The £5 million plus my father (former chairman Eddie) put in has gone forever.
"Every penny would have come out of my personal pocket.
"I would stress to our supporters that all the money that has come in is being used for Dundee United purposes.
"So there has been a lot of misinformation getting spread around and that's the nature of the world now I guess.
"I am fairly thick-skinned but it does bother me because I judge the criticism to be unjustified.
"The club is in its strongest position for many years."
A chunk of the Celtic money will be used to pay back the friendly creditors who enabled United to become free of bank debt.
Thompson said: "I can't say precisely what percentage of the soft loans will be getting paid back but it will be huge.
"Our ambition is to be completely debt-free and we will continue to strive towards that.
"What I decided to do when I took over as chairman was to get rid of the debt because that is what makes the club sustainable in the long term.
"I recall someone, who was fairly close to the club at the time, saying to me that it is about winning and not about P and L accounts (profit and loss).
"Well, I think that's a slightly naive comment to make because there are clubs in Scotland who have won trophies but their finances were all over the place and they have paid the price for that.
"Of course, the main thing as a fan and I am one myself is winning games.
"We have always said, though, it's about striking a balance between having a successful team on the park and running the club properly and responsibly off the park.
"I don't feel a need to apologise for that.
"The average fan maybe doesn't care what happens in the boardroom until something goes wrong. Our job is to ensure something doesn't go wrong.
"In the past, the club has been within a couple of months of going into administration but that will not happen while I am here.
"I say let's look around Scottish football and see the problems that there are and make sure we don't go through that.
"On the pitch we are in our first back-to-back finals for 29 years, are in the quarter-finals of the Scottish Cup and looking to finish as high as we can in the league."
Thompson stressed that United boss Jackie McNamara, who declared himself to be fully behind the decision to sell Armstrong and Mackay-Steven at the time, is happy with the talent he now has at his disposal.
"Jackie has said that he feels he has a stronger squad than before and was in full support of the decision," added Thompson.
"I discuss everything with him when it comes to the players.
"The manager's budget is over what it should have been and that's because we are supporting his efforts to put a competitive team on the park.
"We have brought in three international players (Paul Dixon, Ryan McGowan and Henri Anier) as well as other exciting talent. We have now spent, since last summer, around £400,000 in transfer fees.
"We did a lot of our business in January but what I will say is that Jackie will always get the support of the board and we will continue to work together for the good of the team.
"He understands what we are trying to do."
Thompson cited as an example of continued investment the new GA Engineering Arena at Gussie Park, which will be officially unveiled on March 6.
He said: "We are investing £300,000 in the GA Engineering Arena, with fantastic contributions from ArabTRUST and the Federation. That's a reflection of the relationship we have had with our fans over the years.
"I am told that it's the best FIFA two-star pitch in Scotland."
Explaining the decision to hold season ticket prices at their current level, Thompson said: "Our attendances are up 10% this year and that is really appreciated.
"It is eight years since we put our gate prices up and four years since we put our season tickets up.
"We were speaking, as a board, about a possible increase but what we have achieved in the transfer market means we can maintain season ticket prices for next season, with a few minor tweaks here and there.
"There is recognition on the part of the directors that our fans are pretty loyal to the club despite the current economic environment being pretty tough.
"So that is something that we have decided to do. We feel it is the right thing to do.
"I don't want to overplay it but we have taken cash in and are looking to give something back to the fans."