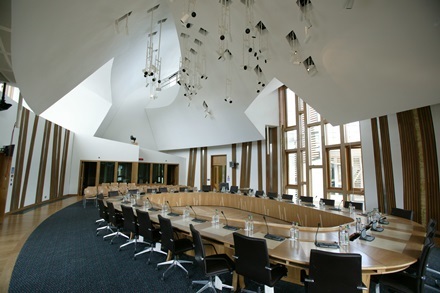 Few people know the Scottish Parliament better than its Presiding Officer, Tricia Marwick.
In fact, "Tricia's Tours" are the thing of legend and visitors as well as many Holyrood workers can often be seen captivated by one of the Mid Fife and Glenrothes MSP's stories.
Saturday's Courier has an in-depth interview with Ms Marwick as she prepares to depart not only the PO's chair but the Parliament entirely.
What better way to whet the appetite for that than being treated to her five favourite things about the famous building?
There's even a ghost story thrown in.
1 Mr Owl
"My absolute favourite is Mr Owl. I love Mr Owl. He was given to the Scottish Parliament as a present from the Presiding Officer of the Quebec Parliament.
"They had one and we had one. There's only two in existence because the person who did it died.
"He's made of a certain type of alloy. When he came to us I believe he was very, very shiny and silvery but if you look at him as he gets older, the alloy is changing and the tips are all going brown.
"I just absolutely adore Mr Owl. More importantly, when my grandkids come to visit the first thing they do is dive over and get a photograph with him. I'm going to miss him dreadfully.
"My wee granddaughter did say: 'Grandma, can we not just put him in my bag and take him home?' I said: 'You can't do that, they'll notice he's gone.' So they're going to miss him too but they've got loads of photographs."
2 The Debating Chamber
"It has been an utter joy to come in here since 2004, when this building opened, and to see it changing from spring to autumn, winter to summer.
"The light is different all of the time. It is the most absolutely stunning building. I love it. But most of all I love the chamber.
"If people see the chamber in real life when they come in on tours they are amazed by how big it is compared to what they see on the television.
"In actual fact I have always felt from the minute I came in here, from the minute this building opened, that the chamber itself is the most wonderful piece of architecture.
"More importantly it is an intimate place to be if you're speaking. I've never ever felt nervous or not confident about speaking in this place whereas other places you sometimes are.
"It's just such a welcoming place."
3 The Bar
"If you remember this was created on my watch too. The bar with the ovens, the fires. It allows me to take folk in – I love doing the tours – and tell them the ghost story about the wee boy.
"The Duke of Queensberry was one of the signatories to the Act of Union in 1707. It is rumoured he had a nephew who was wild, uncontrollable.
"It is said he was so bad that they had him locked in an attic so he couldn't get out. It is alleged that he escaped once and went down to the kitchens, which are our bar, and he roasted the young kitchen boy on a spit in the fire.
"We have still got the fire places and, if you listen to some of our cleaners in here, we have still got the ghost."
4 The Mary Fairfax Somerville Committee Room
"It was named in 2010. I had campaigned for Mary Somerville (the Scottish science writer and polymath who predicted the existence of the planet Neptune) to have her name on one of the committee rooms in the Scottish Parliament and they agreed to it.
"Now I'm delighted the Royal Bank of Scotland is to put Mary Somerville on a bank note."
5 The Arniston Stone
"It is a lintel from the old Scottish Parliament and it sits above the entrance door to the chamber.
"It disappeared for hundreds of years and when the Parliament was opening in 1999 officials were contacted by the Dundas-Bekker family who asked if the Parliament wanted it.
"They had been using it as a bridge in their garden (over a stream at Arniston House, Midlothian)."For our full exclusive interview with Tricia Marwick, see Saturday's Courier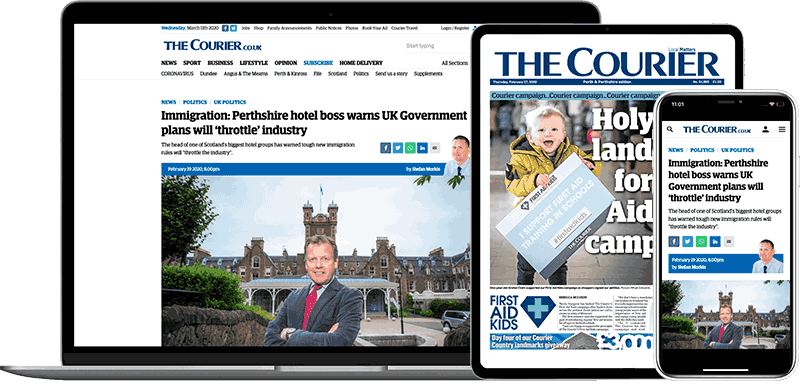 Help support quality local journalism … become a digital subscriber to The Courier
For as little as £5.99 a month you can access all of our content, including Premium articles.
Subscribe