 The clock is already counting down until Apple launches its new smart watch in the UK.
But while some early adopters are ecstatic about the thought of wearing one of the new smartwatches, the launch of the new product attracted more mockery than praise as it trended on Twitter.
The watches are eye-wateringly expensive with the cheapest version, the Apple Watch Sport, costing between $349 and $399, which is around £230 to £264 in real money. A limited edition rose gold version will sell for $17,000.
And if the price tag hasn't put you off, critics also pointed out a few other flaws.
Each watch needs to be paired with a nearby iPhone for all of its functions to work and, perhaps more importantly, the watches will need recharged at least once a day.
https://twitter.com/LordSkipVC/status/575002344108199937
Others on Twitter were also quick to mock the Apple Watches with radio station XFM Manchester creating this handy graphic of its "best" features.
https://twitter.com/XfmManchester/status/575197806517952513
Some people made their own versions of an Apple watch.
https://twitter.com/Huddersfield4U/status/575215499233091584
Others went to the trouble of actually carving an apple into the shape of a watch.
https://twitter.com/GoggleboxPosh/status/575201120986996736
While some people just deliberately missed the point.
https://twitter.com/twowitwowoo/status/575225627286048769
David Whitley, meanwhile, had this to share:
https://twitter.com/mrdavidwhitley/status/575240857072328705
Of course, as far as Apple are concerned it is, as Oscar Wilde said, better to be talked about than not.
Shares in the company rose by 0.43% after the launch, the first new product Apple have brought to the market in five years.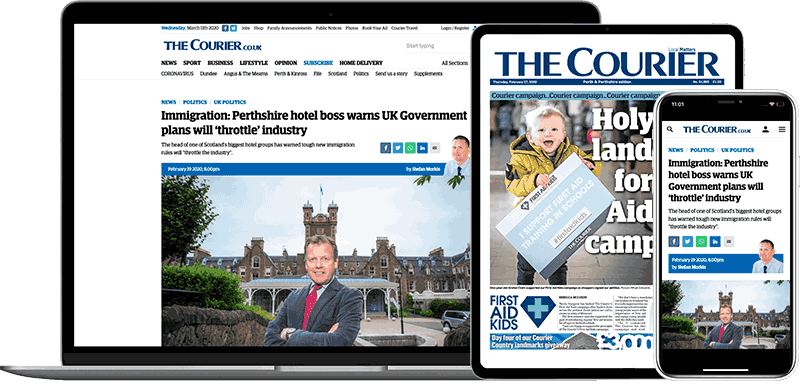 Help support quality local journalism … become a digital subscriber to The Courier
For as little as £5.99 a month you can access all of our content, including Premium articles.
Subscribe