Whizzing through the trees, my face, hair and voluminous boiler suit caked in mud, I'm struggling to remember the Husky command for 'stop'.
I'm onboard a quad bike being towed by eight eager dogs and as we curve a sharp corner and bounce up and over a grassy tussock, we're most definitely gathering speed.
Luckily my pillion Mary Carter is in control. As co-owner of Bowland Trails near Blairgowrie, she has full charge over the Siberian huskies we're exercising.
"Haw! Steady! Woah!" she hollers, which interprets quite simply as "Left! Slow down! Stop!"
As we coast to a halt, Mary hands me a tissue to clean my spattered goggles, muddy chin, forehead and eyebrows. Ideally we'd have been racing on clean, fresh snow, but as we all know, the weather is hit and miss in Scotland, even in the depths of winter.
So instead of an idyllic wonderland, we're sliding about on wet grass and oozy mud. It's mucky to say the least – but fantastic fun.
Bowland Trails was set up by Mary's husband John in 2001. He created a network of trails on the 220-acre site for running his championship-winning Siberian huskies in harness, as well as training other people's lead dogs to be good command leaders.
If you love fast, friendly dogs and you're an adrenalin junkie, you can guarantee a fun time at Bowland Trails no matter the weather.
Check out my experience dog sledding in February 21's Courier Weekend magazine.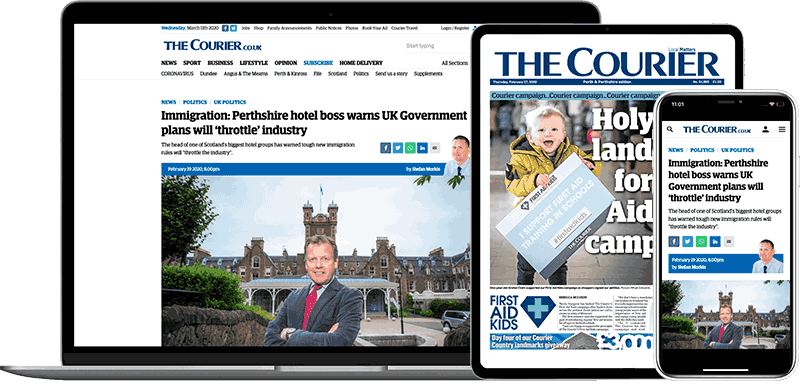 Help support quality local journalism … become a digital subscriber to The Courier
For as little as £5.99 a month you can access all of our content, including Premium articles.
Subscribe