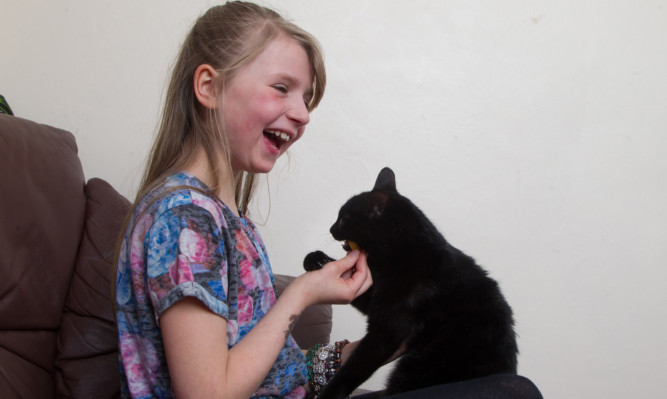 An Angus 10-year-old cried tears of joy as she was reunited with her Wotsit-eating pet cat following its stowaway adventure across Scotland.
Sparkles, who also enjoys a slice of ham, went missing last Saturday after vanishing from Priory Crescent in Arbroath.
The black cat had jumped under the bonnet of a van which then travelled to a petrol station in Inverurie.
Catherine Boyd bought the feline last July for her daughter Teagin.
"Normally Sparkles just plays around about our street," said Catherine. "But last weekend she followed Teagin into the street and then vanished.
"We went looking for her all day but couldn't find her anywhere. Teagin's been missing her so much since she went away. She was in tears."
https://youtube.com/watch?v=ibHuTO-u0xc%3Frel%3D0%26controls%3D0%26showinfo%3D0
Meanwhile Sparkles was noticed by the van driver in Inverurie.
He enlisted the help of fellow motorist Mo O'Sullivan who took Sparkles back to her home in Turriff.
After establishing that the cat wasn't microchipped she launched an appeal for information on Facebook, which was noticed by one of Catherine's neighbours at the end of last week.
"I spoke with Mo and asked if the cat had a slit on her ear, which Sparkles got after fighting with another cat," said Catherine.
"I asked her if Sparkles had been eating cat food because she never has. I told her to try Sparkles with ham. She did that and Mo called back saying 'my God, this is your cat'.
"I told Teagin on Friday that I thought Sparkles had been found. She's been so excited she couldn't wait to get her back."
Mo drove down from Turriff to return Sparkles yesterday afternoon. She said she was thrilled to see it reunited with Teagin, though admitted that she'd miss the cat she'd named Tinkerbell.
"She's been a wee darling," Mo said. "I'm delighted that I've found the owner but I have really enjoyed having her for a few days.
"I had just been fuelling my car when I saw the van driver talking to his bonnet. I went over to see what was happening and offered to take it to a vets to see if it was microchipped.
"There wasn't a chip but they gave the cat a health check and said it was absolutely fine after its journey."
Hayshead Primary pupil Teagin celebrated Sparkles return yesterday by feeding it its favourite food Wotsits crisps.
She said: "I was really, really upset when Sparkles went missing. I was so excited to see her again."