Aspiring Dundee animators are competing to bring the UK's strangest excuses for not having a TV Licence to life, as Michael Alexander found out.
It's been a top year for tall tales, if the most implausible excuses given over the last 12 months for not having a TV licence are anything to go by.
Around 1.4 million TV-owning households dodged buying a licence in the UK last year with one Dundee householder telling investigators: "My cat is in labour so I don't have time to talk to you."
TV Licensing has released its favourite excuses for not paying up, which included a Forfar householder who said: "I was told to film you but my phone is dead so you need to come back later."Animated excusesNow, in a quest to find the best animated excuses, degree course students at Duncan of Jordanstone College of Art and Design in Dundee have worked their creative magic on some of the dubious explanations for non-payment.
https://youtube.com/watch?v=H-SyWzNNBuA%3Fcontrols%3D0%26showinfo%3D0
The aspiring animators have submitted four films based on their favourite UK-wide excuses for 2015.
The students, the only ones in Scotland to be involved in the contest, are up against entries from Middlesex, Ulster, Bristol and Derby universities.
Sharon Campbell is the course director for the BA(Hons) animation at Duncan of Jordanstone and a graduate of the college.
https://youtube.com/watch?v=s4z5NOkiQNg%3Fcontrols%3D0%26showinfo%3D0
She has taught traditional animation in Dundee for 13 years and has also worked in the industry as an animator on feature films such as Sylvain Chomet's The Illusionist.
She explained that after being contacted by a media company, the TV Licensing project became part of the course work for third years.
She said: "We had a list of all the excuses and did a workshop with acting lecturers.
https://youtube.com/watch?v=vb6l7mYoV1E%3Fcontrols%3D0%26showinfo%3D0
"A conversation took place about these excuses and what the back stories might be.
"Scripts were devised around that and they went on to produce storyboards, creating hand-drawn characters for animations up to one minute long."
The students worked with four actors from Dundee Rep Emily Winter, Irene MacDougall, Stephen Bangs and Martin McBride who did voice acting and direction.
Sharon said many of the students found the TV Licensing concept "really boring" at first and a discussion had to take place about the importance of licensing.
In fact, some of the foreign students found the idea of a licence "absurd".
However, attitudes changed when the discussion highlighted the fact that funding for many TV programmes and animation projects in the UK is funded by the fees.
And some of the lurid excuses, such as the cat in labour, also provided amazing inspiration for the students.
One in particular that provided rich pickings came from south of the border in Hexham, Northumberland, where a viewer claimed a royal title as the King of Scotland, which they said meant exemption from having to pay for the licence."I use it for a light"One viewer in Glasgow came up with: "I only use the TV for the light as I can't be bothered going to the shops to buy light bulbs."
Another excuse from a Glaswegian was: "I don't need a licence. I steal my neighbour's signal I'm pretty sure they have a TV Licence."
And someone from Hawick, in the Borders added: "I only watch TV on my iPhone I thought you needed at least 12 inches for a licence."
For the animation competition, prizes will be awarded for the people's choice and the judges' award, made by a panel of animation industry experts.
The winner of the people's choice will be based on the highest number of likes received on the YouTube channel run by TV Licensing. Viewers have until 5pm on March 4 to vote for their favourites.The Dundee entries are:I'm the King of Scotland | University of Dundee (film 11). Nicola Beveridge; Stephen Cunningham; Fraser Thomson; Thomas Goldsworthy; Karolina Tomaszewska.
The TV is for the Light | University of Dundee (film 17). Lewis McDonald; Dommy Downs; Reid Douglas; Darren Yeats; Scott Gemmell.
My cat's in labour and I'm the King of Scotland/University of Dundee (film 2). Alex Heywood; Mark McGinty; Steven Buntin.
King of Scotland/University of Dundee (film 7). Beth Hopkins; Silvie Walker; Raquel Garzon-Calderon; Rosealee Higgins; Karina Millar.
View them all on TV Licensing's YouTube channel.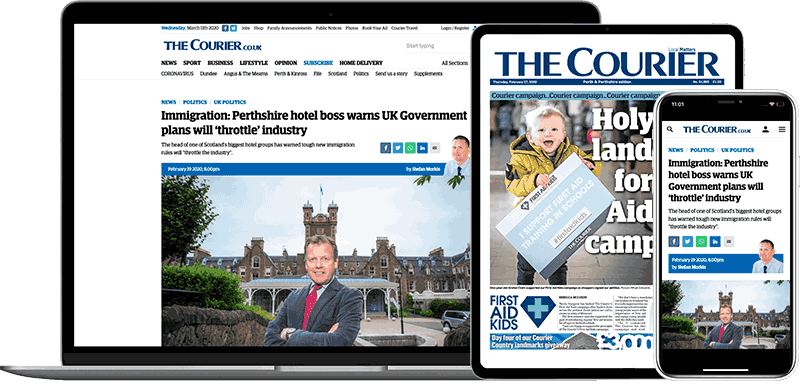 Help support quality local journalism … become a digital subscriber to The Courier
For as little as £5.99 a month you can access all of our content, including Premium articles.
Subscribe