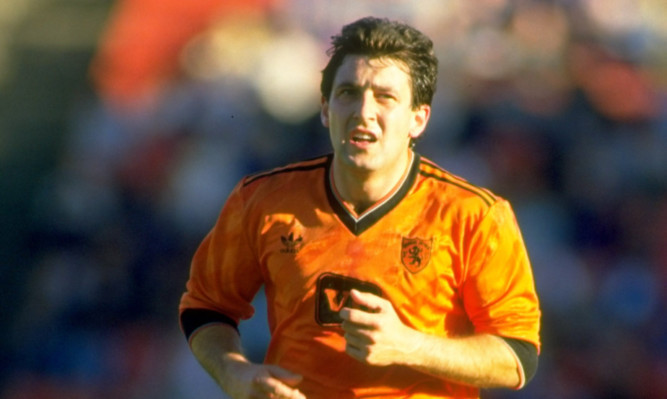 Hamish stokes young men's dreams into a burning flame', wrote Michael Marra, the bard of Dundee. The song was in tribute to United's legendary goalkeeper Hamish McAlpine, but could equally have been penned for another United hero, Ralph Milne, who passed away last week at the age of 54, having lost his long battle with alcohol.
The prodigiously talented Milne, who scored to help United win the league title at Dens Park and who is the club's record European goalscorer, was a local boy made good.
In an age when club football has effectively morphed into an international game, with players plying their trade from all around the globe, local clubs are perhaps less local than they once were.
When the boy from down the road breaks through to play for his local team, it hits that high, sweet note, which is music to the ears of the thousands of us who drifted gently into our nightly slumbers, dreaming that same improbable dream.
The prospect of turning professional with your boyhood heroes is one which few ever realise: Ralph Milne joined that illustrious band of brothers, ensuring his place in the rich history of football in the city of Dundee.
His passing recalls a time when football clubs had more than their share of local lads who could perform on the biggest stages.
David Narey, Hamish McAlpine, John Holt and Davie Dodds were all local boys. They pulled on the Dundee United shirt and strode stylishly onto the European stage to beat the best the continent had to offer.
The combination of two born and bred Dundonians, Christian Dailly and Craig Brewster, who scored the goal which defeated Rangers to win United's first ever Scottish cup in 1994, brought an outpouring of local pride in their and the club's achievement.
At Dundee FC, an unbreakable bond of loyalty is devoted in memory of talismanic skipper Bobby Cox, brought up within earshot of the roar of the Dens Park crowd and who led that great side to a first-ever league title.
Gordon Wallace, who scored the goal which brought the League cup to Dens in 1973 and John Duncan, both local boys, also donned the dark blue with great distinction and occupy a unique affection in the hearts of Dundee supporters.
Fans talk about playing for the jersey and local boys like Ralph Milne knew that it was much more than a phoney exercise in badge kissing.
Born and bred in Dundee, there was nowhere to hide and nowhere to run from a bad performance or result.
Ralph and other locally-born players understood instinctively what their teams meant to their ain folk.
They also tended to stick around longer than today's club men. Milne's 286 appearances and 75 goals for United are extensive in a time when many club players have shorter shelf lives than the morning rolls.
Ralph Milne's abilities were sadly never recognised with a full Scotland cap.
In his native city though, his life and times will be celebrated with pride, for the joy he bestowed and the dreams he gifted.