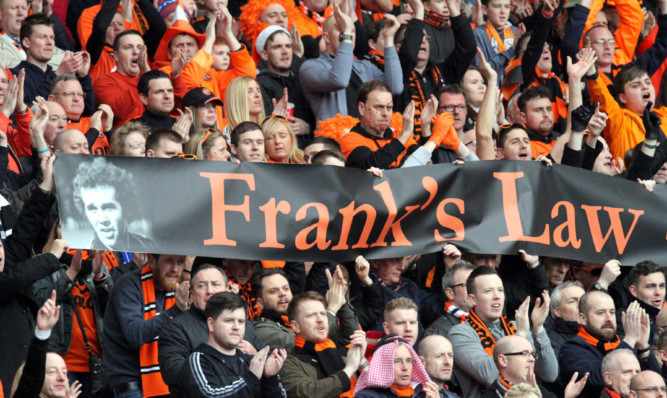 A minute's applause by 50,000 football fans will take centre stage in a major protest on the Health Secretary's Dundee doorstep.
Dundee United legend Frank Kopel's widow Amanda and her supporters will gather outside Shona Robison's SNP office ahead of her regular surgeries on Friday.
The sound of 50,000 Dundee United and Celtic fans applauding in support of Frank's Law at the League Cup Final in March will be broadcast through loudspeakers.
A huge Frank's Law banner will also be unveiled by the army of supporters who will also be taking their protest to the Scottish Parliament in Edinburgh.
"The memories of the cup final when 50,000 people at Hampden – Dundee Utd fans, Celtic fans and neutral supporters – applauded in the third minute in support for Frank's Law was not only very emotional, but also very humbling for me and the family.
"When I saw and heard that applause and heard the United fans chanting Frankie's name my tears just started to flow.
"I looked round that stadium that day and wondered how many of these people applauding had a family member, a friend, a neighbour, or knew someone who had been diagnosed with not only dementia, but motor neurone disease, multiple sclerosis, Parkinson's, or any brain degenerative disease – because none of these incurable diseases respects age, creed or colour.
"How many more voices need to be heard for the Scottish Government to stop stalling and tell us whether they are intending to introduce Frank's Law?"
Fans of both Celtic and United stood together for a minute's applause in the third minute of the game at Hampden in March for the Tannadice great who wore the number three jersey during his career.
Mrs Kopel's husband died in April last year having been diagnosed with dementia in 2009, when he was aged just 59.
He and his wife paid about £300 a week so he could have personal care in his Kirriemuir home because he did not reach the qualifying age for free services until weeks before his death.
Mrs Kopel is urging ministers to close this loophole, a bid The Courier is backing.
She began the campaign 27 months ago and is staging the 11am protest amid growing frustration at what she sees as a lack of support for the so-called Frank's Law from the SNP administration.
Mrs Kopel said: "Frankie died 19 days after he was eligible for free personal care.
"The under 65s, who, like Frankie are battling incurable and terminal diseases, sadly will probably never reach 65.
"They wouldn't need free personal care for a long time, and even if they were lucky enough to reach their 65th birthday, it seems disgraceful that one day is the difference between getting free personal care and having to pay for it.
"The majority of these people will have worked all their lives and paid into a system until these diseases will have lost them their jobs, their incomes and ultimately rob them of their lives at a young age.
"But when they need help to live with dignity and respect at the end of their lives they are having to battle bureaucracy.
"The referendum cost £15 million last year. If they go for another one next year where are they finding that money if they can't fund Frank's Law?"
Health Minister Shona Robison previously said the government recognises the concerns raised by Mrs Kopel, and others, about fairer charging for social care.
The Scottish Government said it is considering "very carefully" what further action it can take to deliver fairer care for the people of Scotland.
It intends to make further announcements when this work is complete.