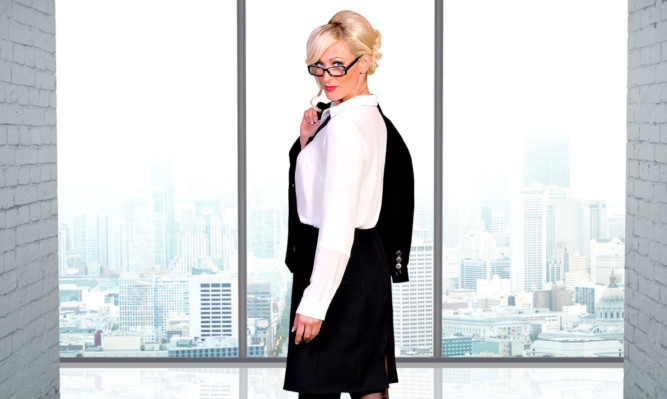 Steps star Faye Tozer said she cannot wait for the Arbroath debut of a new comedy based on the 50 Shades of Grey novel.
Faye is performing as Christina Black in the comedy stage show 69 Shades of Black, which comes to the Webster Theatre on Saturday April 25.
She said: "I enjoy playing comedy roles and I thought this would be a really fun show to do and something totally different from my more recent theatre jobs.
"Christina is a successful business woman, the head of an advertising agency, who has taken a shine to her new employee the hopelessly boring William.
"She has a hard-nosed exterior and likes to be in control but no complicated dark layers like Christian Grey.
"Our show is very light hearted."
Faye trained at the Anne Gale School of Dance where she achieved advanced qualifications in all aspects of dance, including ballet, tap and modern.
She then went on to dance professionally with the Belinda King Dancers for two years, until achieving international success with Steps, whose overall record sales topped 20 million.
"I am excited to get back on the road after a short but well earned break," said Faye.
"I have played most of the theatres on this tour. I've been around the theatre circuit for over 10 years now and I love it."
Arbroath's Webster Theatre will be a new experience for Faye but she said she always enjoys the chance to visit somewhere new.
Faye's other theatre work includes: Sally in Me and My Girl, Sheila Wendice in Dial M for Murder, Eva Cassidy in Over The Rainbow and Annie in Rhinestone Mondays.
Tickets for the performance are on sale now from the Webster Theatre box office.