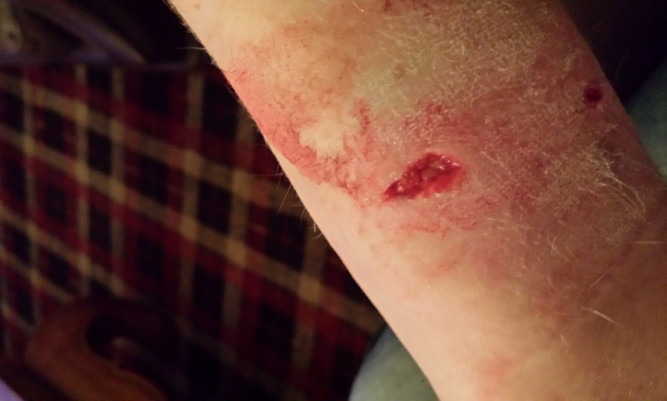 An Arbroath man was bitten several times when he stepped in to stop a Akita-type dog attacking a cocker spaniel.
Alex Mackenzie, 28, was walking his mother's cocker spaniel, Ted, when the incident happened at the Eastern Cemetery in Arbroath.
He managed to grab the large dog by its collar as it lunged for the spaniel but it then turned its attention to the self-employed joiner.
"I was about 200 yards from the gates at the cemetery when the Akita-type dog came running over quite aggressively," Mr Mackenzie said.
"It was off the lead and I knew by the way it was approaching that it wasn't coming over for a play with my dog.
"It came over to Ted and gave a growl. Ted growled back and that's when it lunged to go for him.
"Luckily I grabbed the Akita by its collar in time and pulled it away from my dog. It then jumped up at me and latched onto my arm.
"I managed to get away from it but then it came back and grabbed my wrist. It wasn't keen on letting go.
"I had to let go of Ted's lead so that I had two hands to wrestle it."
Mr Mackenzie said the dog's owner appeared after around 30 seconds and took it away.
"It didn't seem to phase him at all. He just said 'sorry mate'.
"I just wanted to get my dog away from there in case he didn't have his dog under control again.
He continued: "The Akita had ripped through my jumper and jacket and my jeans.
"I had puncture marks and bruising on my left leg, four puncture wounds down to my wrists and forearms and bruising on my arms which are quite sore to move."
Mr Mackenzie went to Arbroath Infirmary for the wounds to be dressed. He also reported the incident to police.
"I'm 6ft 4in and was able to stay on my feet as it was trying to savage me but it would have easily overpowered a child or a woman," he added.
Police are appealing for witnesses to the attack, which occurred last weekend.
A spokesman said: "Police Scotland is appealing for information after a 28-year-old man was bitten by a dog in Eastern Cemetery in Arbroath at around 5pm on Saturday March 5.
"Officers are keen to speak to a man who walking a grey Akita or Malamute type dog.
"Anyone with any information is asked to contact Police Scotland on 101."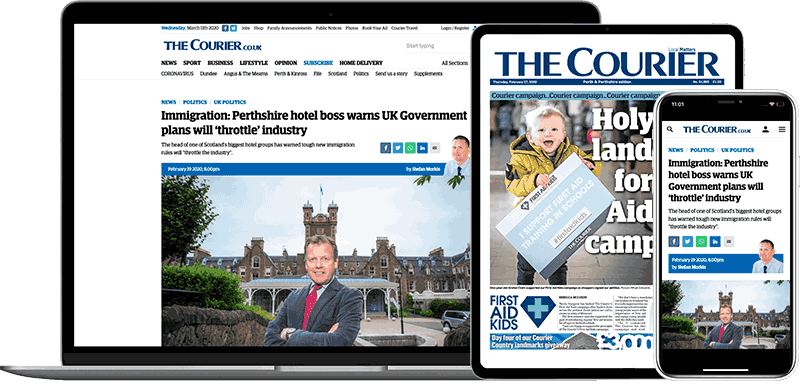 Help support quality local journalism … become a digital subscriber to The Courier
For as little as £5.99 a month you can access all of our content, including Premium articles.
Subscribe