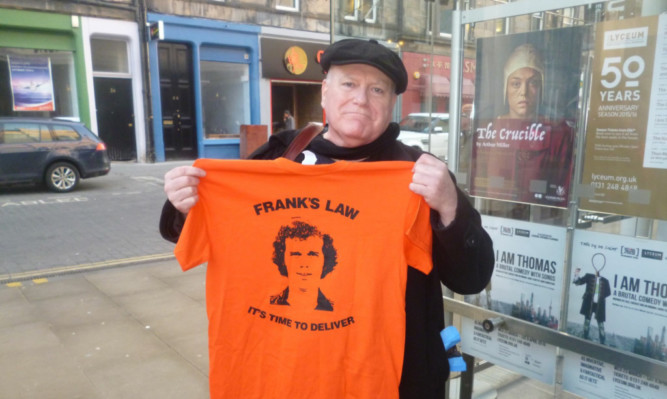 Game of Thrones star Ron Donachie has given his support to Frank's Law as the campaign goes global.
The Scottish actor, who played Ser Rodrik Cassell in the critically-acclaimed fantasy drama, is currently performing in The Crucible at the Lyceum Theatre in Edinburgh.
He was happy to pose with a Frank's Law T-shirt and passed on his best wishes to Frank's widow Amanda and her family.
Kevin Brannan from Dundee took the Frank's Law campaign to New York and showed off his T-shirt during the St Patrick's Day Parade.
Mr Brannan, who is a former Lawside Academy pupil, is currently in the city celebrating his wedding anniversary with his wife Catherine.
Mrs Kopel said word of the campaign is now spreading globally with people uploading pictures of themselves wearing the T-shirt from far-flung locations.
She is dealing with an order for T-shirts to be sent to Valencia to a group of friends who are doing their bit to raise awareness.
"Word is certainly spreading around the globe," said Mrs Kopel.
"All these photos are being posted by supporters of Frank's Law.
"The support has been phenomenal and it was fantastic to see Ron Donachie supporting the cause.
"Nobby Stiles played alongside Frank at Manchester United and his son John has also asked for a T-shirt."
Celtic manager Ronny Deila has previously lent his famous 'roar' to the fight for Frank's Law.
There has also been support from Last Leg comedian Adam Hills.
Celebrity backing has also come from Ricky Ross from Deacon Blue and breakfast TV queen Lorraine Kelly.
Frank Kopel died in April 2014 having been diagnosed with dementia in 2009, when he was aged just 59.
He and his wife paid about £300 a week so he could have personal care in his Kirriemuir home because he did not reach the qualifying age for free services until weeks before his death.
Mrs Kopel is urging ministers to close the loophole a bid The Courier is backing. Holyrood's Public Petitions Committee will take forward Mrs Kopel's campaign into the parliamentary session following May's election.