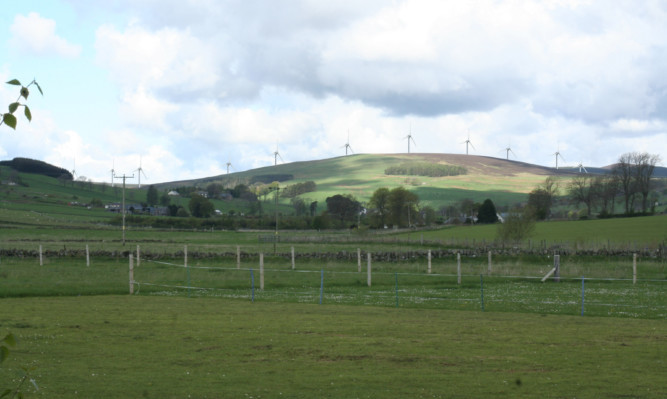 Campaigners are celebrating victory in their fight against an "industrial scale" windfarm it was claimed would have decimated the tourism market of Glen Isla.
Developers Wind Prospect said the £45 million Saddle Hill scheme would have provided enough power for a fifth of the homes in Angus and delivered a £4m community bounty over the next 25 years.
But the area's development standards committee meeting in Forfar backed the refusal recommendation of officials after hearing the 115-metre high turbines, eight of which in the 14-turbine scheme fell within the Angus Council boundary, would be visible from Perth, the Sidlaws and the Angus Munros.
Councillors heard impassioned pleas from a string of objectors including eco-tourism operator Euan Ivory who said the a go-ahead for the plan could sound the death knell for his business and put full and part-time jobs under threat.
A member of a family which has farmed in Glen Isla since the 19th Century, Mr Ivory said eco-tourism had been a successful diversification and his operation was a contributor to the vast number of commercially advertised tourist beds in the immediate area, but they had not been consulted by the developer over the proposal.
He told the committee 80% of clients had said they would not return to the area if Saddle Hill received approval.
"Almost all of the young people work in tourism," he said.
"If the windfarm goes ahead and the number fall anything like they are suggesting then I can't see how we would survive."
Kirriemuir Landward West Community Council chairman Roger Clegg said the area's "small and scattered" communities were having to "bear the brunt of an industrialisation of the hilltops".
Applicant Wind Prospect's senior development manager, Sarah Dooley, told the committee: "More Scots support wind power than ever before with support rising as more turbines are built."
She was challenged by Forfar councillor Lynne Devine over the firm's "persistence" with the scheme in the face of clear council guidance indicating there was "no scope" for large-scale windfarm development in the area.
Ms Dooley said: "We have considered all the planning documents and we do believe that Saddle Hill is a site that has the capacity to accommodate this development."
In addition to refusal reasons based around the unacceptable landscape, visual and scheduled monument impacts, the committee strengthened the rejection at the suggestion of Arbroath councillor David Fairweather that the proposal would affect the biodiversity of the area.