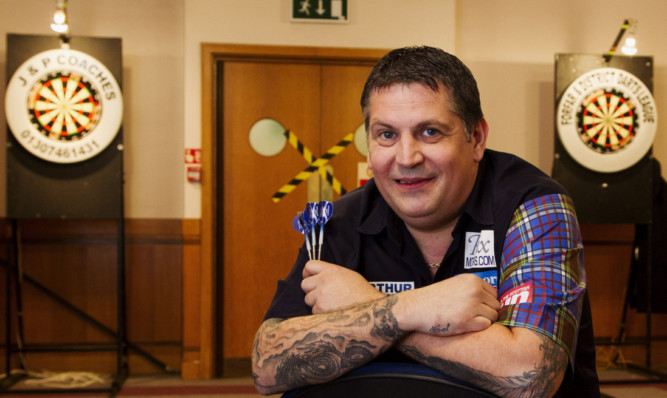 Flying Scotsman Gary Anderson was among the stars of a tungsten tussle in Forfar last night.
Anderson, who won a major by triumphing in last Sunday's Players Championship event, was the star name on the bill for the second annual Reservoir Darts event at the Reid Hall.
The 480-capacity Reid Hall was transformed with a big stage, big screens, walk-on girls and pipers.
The exhibition featured a grudge match between Scotland and England.
Anderson captained the Scottish team which included Jamie Harvey, John Henderson, Paul Coughlin and Arbroath's Alan Soutar.
"Jabba" Jamie Caven led the English team, supported by Alex Roy, Michael Smith, Dennis "The Menace" Priestley and Matty Dennant.
The bash wasorganised again by Behind The Oche whose managing director Russell Roebuck lives in Dundee.
Cash raised from an auction, a raffle and a contribution from all balcony tickets went to the Erbs Palsy Group, Yorkhill Children's Charity and Angus Darts Academy.