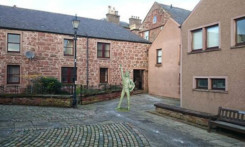 Possible locations for a statue of AC/DC legend Bon Scott have been identified in Kirriemuir.
Organising group DD8 music has unveiled three locations the Square, High Street and Cumberland Close, near Scott's former family home where the figure could be placed.
The group plans to open a public consultation asking residents on the best place to put the statue.
Graham Galloway, the chairman of the group, said the consultation was a way of letting folk have their say.
He said: "At the moment, there's a lot of variety about where people would like the statue to be in the town.
"People from around the world seem more certain over the statue's location, saying it should be in the town square.
"Locals, however, aren't as sure and that is what the consultation is for.
"They are the ones that have to live with it every day, so it's only right they have a say."
The consultation, which is open for a month, will be at the Townhouse Museum and in the library.
Mr Galloway added that the consultation comes as the statue project reaches its final stages and more than half of the £19,000 to get it cast has already been raised.
He added: "We have recently completed the clay work and the final stage is to have it cast in bronze.
"Now we are more than halfway there, it seemed right to let the people have their say on where they want it."
The former AC/DC lead singer had lived in Kirriemuir for a number of years before emigrating to western Australia in the '50s.
He fronted the world-famous rock group from 1974 until his death in 1980.