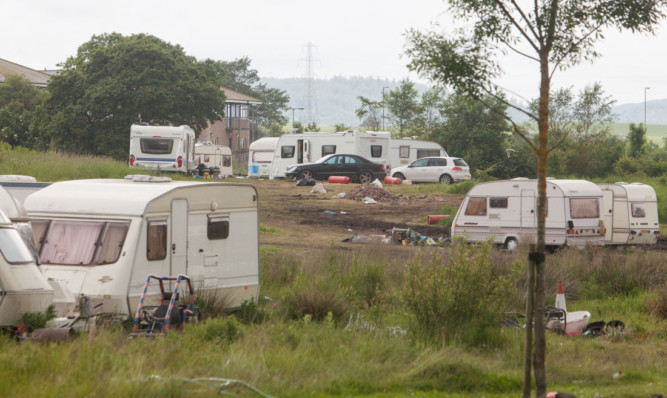 Angus Council leader Iain Gaul has pleaded with residents not to offer work to Travelling people.
He made the appeal after complaining that costly measures to prevent unauthorised access to public land are "bloody annoying" for the authority.
He expressed his dismay over the cost of work the council has had to carry out to avoid a possible repeat of Travellers setting up camp in Forfar after a summer of discontent which cost thousands of pounds to clean up.
From May onwards, residents in parts of the town claimed they were "under siege". The Travellers took months to leave, eventually heading out of Angus from a disused mill near the village of Tannadice after four times flitting from open ground in Forfar, including the Forfar Loch Country Park.
Mr Gaul said Angus Council can ill afford substantial clean-up costs and the new measures put in place in a bid to stop a repeat.
He has also repeated the message to locals not to take up the offer of services which the Travellers provide, arguing that if there is not work in Angus then they will move on more quickly from the area.
Mr Gaul said it was "not frustrating but bloody annoying" that the council is forced to pick up the tab.
"It is rather unfortunate this is the action we have to take," said Mr Gaul. "I don't welcome the steps taken.
"It would be better if we didn't have to if people could live in harmony and not abuse what is there.
"If they would come along and tidy up behind them and not defecate outside people's property.
"Because of the amount of work the Travelling community got in this area we will be a hotspot.
"It was a lucrative place for them to come and they are going to be coming back."
He said the council had spent a "fortune" on works including digging ditches, putting in barriers and placing boulders over entrances to open areas of ground to prevent unauthorised entry.
"We are wasting money throwing away assets to deal with these people," he said.
"We are having to make difficult decisions and when I became (council) leader one of the first things I did was say what dire (financial) straits we were in.
"I am sitting in a meeting one minute to discuss closing toilets to save £1,000 and the next week we could be talking of spending £15,000 to clean up after Travellers."
Forfar's Traveller troubles began in May when an encampment numbering almost 30 caravans arrived on common good ground in the east of Forfar.
On the eve of a planned eviction they moved to open ground at Orchardbank Business Park in the shadow of the council's Angus House HQ but some also took up position on the north side of the town's country park, infuriating residents and visitors to the popular beauty spot.
Residents said they were verbally abused by the Travellers and warned not to walk their dogs because they might be attacked by dogs belonging to the group. They eventually pitched up at the disused Glencoul Mill, off the A90 north of Forfar.
Site owner Mark Guild also spent a substantial sum in dealing with the illegal invasion, but said he would rather attempt to work with Police Scotland to find a solution rather than forcing the group off his ground to move the problem elsewhere.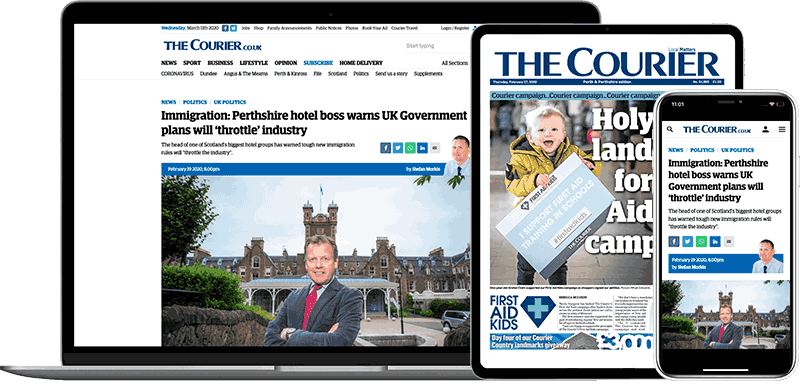 Help support quality local journalism … become a digital subscriber to The Courier
For as little as £5.99 a month you can access all of our content, including Premium articles.
Subscribe