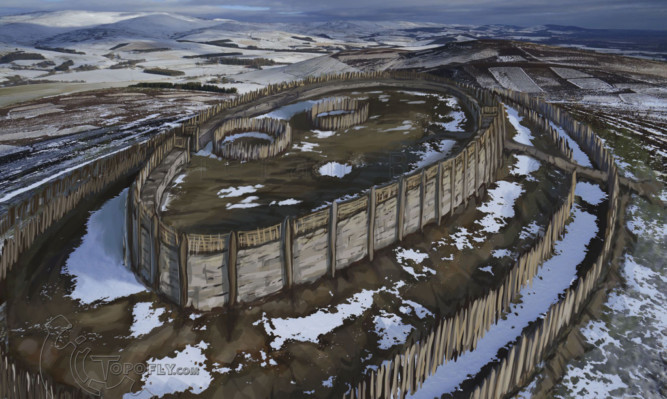 An early Angus settlement has been re-created after more than 2,000 years by a Dundee art student.
The White Caterthun hill fort near Edzell is regarded as one of the most striking examples of iron age life still visible today.
One of a pair, the other being on the adjacent Brown Caterthun, the fort is a much-loved stopping place for hillwalkers.
Kieran Baxter has concentrated on the sites as part of a PhD project to digitise and preserve them against the depredations of nature.
Kieran moved to Dundee from Strathspey in 2008 to study animation at Duncan of Jordanstone art college. He then moved into postgraduate research in digital visualisation.
Kieran said: "My research investigates how aerial photography and digital visualisation can be combined to tell the story of Scotland's prehistory.
"The Caterthuns are iron age hill forts which I'm using as a PhD case study, working with archaeologist and visualisation specialist Alice Watterson to visualise this fantastic pair of sites.
"Aerial photography is my passion. On this project I have used kites and flown in light aircraft to collect a catalogue of aerial photographs of the hill forts.See more at www.topofly.com"These are then fed into computer software that allows for them to be reconstructed in three dimensions.
"We can start to see features of the sites that are invisible otherwise and also add layers of archaeological interpretation.
"The final outcome can take a number of forms, including an animated fly-through that will really help the visitor to get to grips with the visible and invisible parts of these hill forts."
White Caterthun fort covers an area of about 550 by 220 feet in circumference. The site is surrounded by a stone wall, which may have been as thick as 40 feet in places.
It has been described as the most impressive ruined wall in the UK. Beyond this wall lies a ditch and another three walls. Beyond the outlying walls are more remains of ramparts.
Within the walls is a stone cistern, and a more recent turf foundation. Between the inner and outer earthwork defences is a cup and ring-marked stone, which has about 60 carvings on its surface.
A mile to the northeast, the Brown Caterthun fort covers an area of 1,000 feet by 900 feet, and is encircled by a combination of four earthen ramparts and ditches.